Today, the Armenian and Azeri foreign ministers, Zohrab Mnatsakanyan and Elmar Mammedyarov respectivally meet their Russian counterpart Sergey Lavrov in Moscow for re-conciliatory talks on the Karabakh conflict.
During the talks, besides the three foreign ministers, the OSCE Minsk Group co-Chairs also participated, them being Stephane Visconti (France), Igor Papov (Russia) and Andrew Schofer (United States), as well as the Personal Representative of the OSCE Chairperson-in-Office Andrzej Kasprzyk.
Non-official footage of the arrival of the ministers for talks in Moscow
Official notifications from the three foreign of Russia, Armenia and Azerbaijan, were almost identical translations of the OSCE Minsk Group statement on the meeting.  Considering the latter, little information is know about what exactly was was spoken.  A brief summery by the OSCE Minsk Group stated the following:
As a follow-up to the agreements reached by President Aliyev and Prime Minister Pashinyan at their summit in Vienna on 29 March of this year, the participants in the meeting discussed the situation at the border and the line of contact, as well as the prospects for establishing humanitarian co-operation. They also exchanged detailed views on key aspects of the settlement process.
Photograph of the meeting from the Armenian Foreign Ministry webpage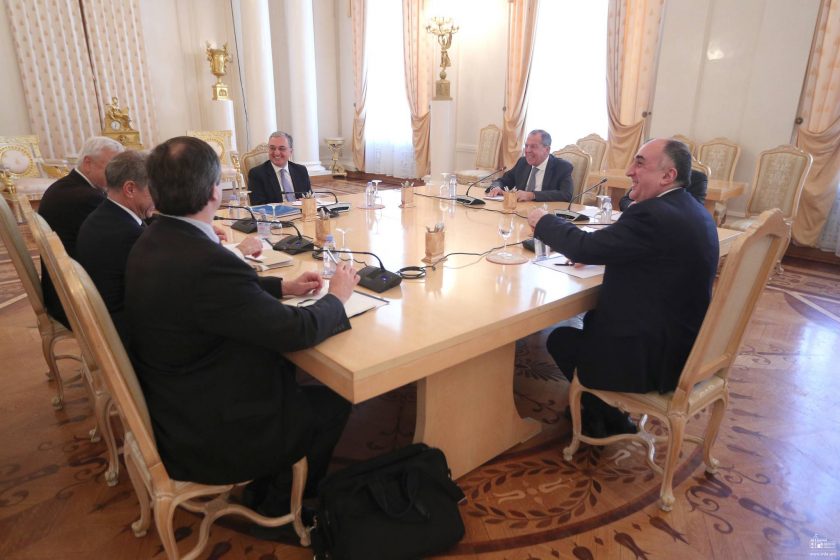 It is worth mentioning that a few days before this meeting on 13 April, the Armenian foreign minister met up with his counterpart from Stepanakert, Masis Maiyilyan. During the meeting, the two discussed the former's upcoming meeting in Moscow  as well as "exchanged views on a range of issues related to the humanitarian measures aimed at creating an atmosphere of trust between the conflicting parties."
Official footage of the meeting between Mayilyan and Mnatsakanyan