In the statement, Azerbaijan's State Border Service (SBS) mentioned that Armenian troops stationed at at outposts near the village of Zorakan fired on Azeri positions near the the village of Ikikji Sikhli, wounding an Azeri border guard.  Azeri officials stated that heavy machine guns were fired on their positions, prompting them to return fire.
The area of incident near Georgia's border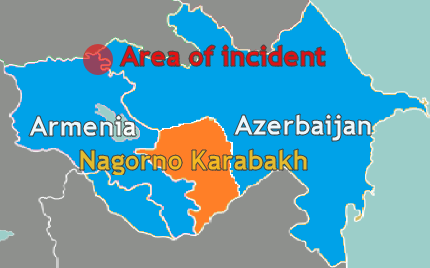 Armenia's Defence spokesperson denied that a shootout had taken place, stressing that the situation on the border remained calm. No other official sources from Yerevan made mention of the incident. While border skirmishes are common between the two countries, the area of incident this time was significant in that, according to official sources, it occurred within the vicinity of the last border outposts leading up to the Georgian border.
Very few, if any, serious incidents have been recorded in this area, which had remain relatively calm. In recent years, both sides have stepped up the construction of entrenchments and military outposts in the area, particularly between 2017 and 2019, a few hundred metres from Georgia's border.
Armenian military outposts built between 2017 and 2019

Azeri military outposts built between 2017 and 2019