Today a ceasefire monitoring mission was conducted by the Organisation for Security and Cooperation in Europe (OSCE)  on the eastern segment of the line-of-contact between Azerbaijan and Nagorno Karabakh (NK), near the abandoned city of Aghdam.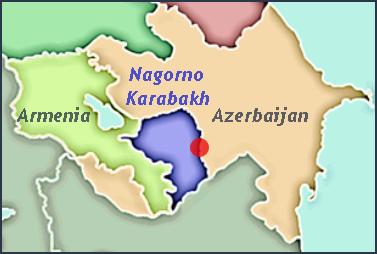 The NK Foreign ministry in a press release stated that OSCE representatives conducting the monitoring on the Armenian side were the OSCE's representataives Ghenadie Petrica and Mihail Olaru (both from Moldova).
On the Azeri side, OSCE representatives Simon Tiller (UK) and Ognjen Jovic (Bosnia and Herzagovina) carried out the monitoring. According to Azeri Defence officials, the monitoring on their side took place as planned in the Göygöl district.
Its with mentioning, that neither of the above-mentioned official statements mentioned the participation of the OSCE's Personal Representative of the Chairperson-in-office Andrzej Ksprzyk, who has actively participated in these missions in the past.
This is the 17th ceasefire monitoring mission conducted this year and the fourth near this same area, known for numerous ceasefire violation incidents and skirmishes in the past.
A view of the approximate area where the monitoring was conducted. Trench systems visible from satellite imagery
[metaslider id=5181]
This ceasefire monitoring mission coincides with a rise in reported ceasefire violations. During this approximate time last last year,  around 71 daily projectile shots were being reported by Nagorno Karabakh officials, while this year, the number has risen to 157.
Additionally, Azeri defence authorities stated that on the same day of this ceasefire monitoring mission, 22 ceasefire incidents were reported by them, including heavy machine-gun and sniper fire along the line-of-contact and the internationally-recognised border with Armenia.