At around 16:00 hours on 24 March 2022, reports emerged of Azeri troops overrunning Farukh village in Nagorno Karabakh. This village of 100 inhabitants lies around 2 km from the new 2020 ceasefire line-of-contact that separates Azeri and Karabakhi Armenian forces; it sits just below a major ridgeline considered a strategic location as it overseas many Armenian villages.
This is the biggest military-related development in Nagorno Karabakh since the 2020 war, and included a Bayraktar attack on Karabakhi forces, killing 3, wounding 14 (1, 2), amid a humanitarian crisis in the territory that remains without natural gas due to supplies being interrupted by Azeri authorities controlling a segment of the pipeline from Armenia.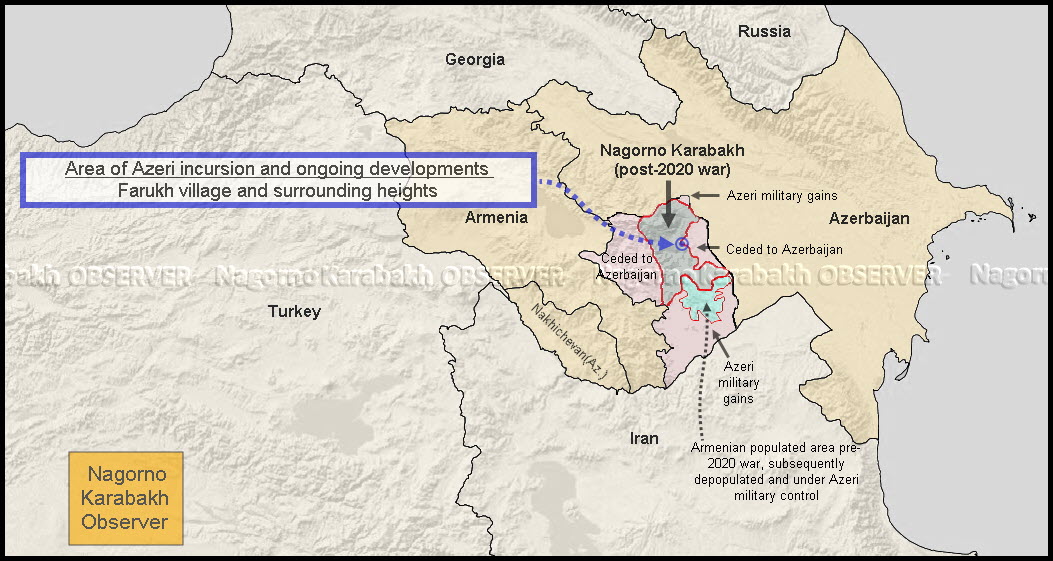 Local media quoted former Farukh village mayor as stating that Azeri forces overran the village without a shot being fired telling villagers:
"We better not see any weapons in your hands, evacuate the village, it's our territory."
Azeri forces continued towards the nearby heights to establish makeshift military positions where they remain at the time of writing.
The incident occurred with an Azeri TB-2 Bayraktar attack on a Karabakhi position that killed 3 and wounded another 14 Karabakhi servicemen, all on territory monitored by the Russian peacekeeping contingent deployed in the area since the mentioned 2020 ceasefire.
The incident is alarming not only because it clearly violates the trilateral ceasefire agreement signed between Armenia, Azerbaijan and Russia that ended the 2020 war, but because it occurred on territory under the responsibility of Russian peacekeepers. Considering that Moscow is militarily involved in the Ukraine on a large-scale, problems maintaining the ceasefire in Nagorno Karabakh can possibly give way to serious geopolitical consequences not only for Russia, but for the region as a whole.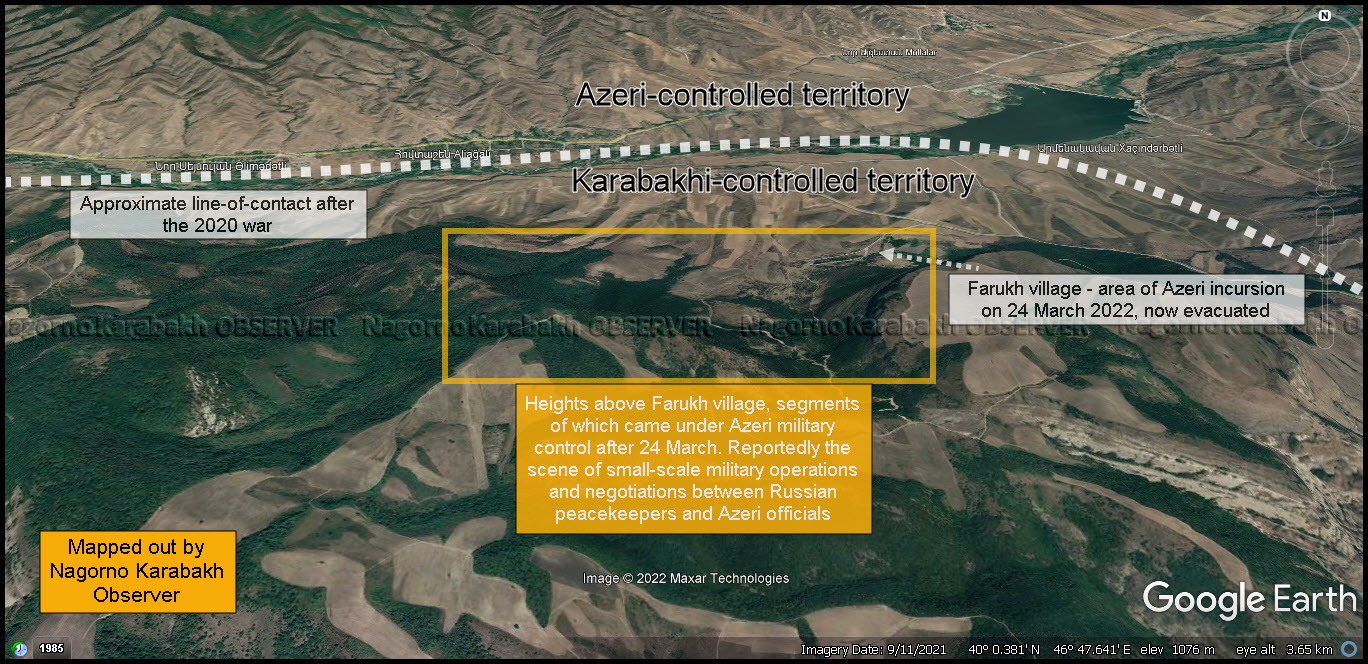 Credible anonymous sources suggest that just prior to the 24 March Azeri incursion, Karabakhi troops stationed around Farukh village had been given an order by mainland Armenia's authorities to pull back. These sources confirmed that such an order was given, but did not specify as to the reasons.  While Karabakhi troops protecting the village pulled back, Azeri troops quickly advanced towards the village well beyond the line-of-contact. As a result, the village was completely evacuated.
Azeri troops continued their advance towards the heights above Farukh, known locally as Karaglukh. Reports between 25 and 26 March from Karabakhi officials suggested small-scale military operations to regain the heights had taken place (1, 2).  This information was also corroborated by credible sources.
Azerbaijan's and Russia's statements
Azeri authorities provided limited official statements on the developments. The first one on the day of the incursion (24 March), which stated:
"Positions and deployment locations are being clarified on spot, no clashes or incidents have occurred… The situation is artificially exaggerated by Armenian sources. The purpose is to create an atmosphere that can trigger deliberate hysteria, confuse and mislead the public."
While the second statement was provided on 26 March, stating that illegal Armenian armed detachments were repelled trying to provoke the Azeri military, and that the joint Russian-Turkish Monitoring Centre was informed of the incident.
On 26 March, Russia's Defence Ministry reported that Azerbaijan had violated the 2020 ceasefire agreement, attacking an area under their observation with a Turkish-produced TB-2 Bayraktar and setting up military positions. The statement also mentioned that Russian peacekeepers were currently in negotiations to stabilise the situation aiming for the return of Azeri troops back to their positions prior to 24 March. Russian reports confirmed Karabakhi reports a day prior about the use of a Bayraktar drone.
In response to Russia's report, Azerbaijan's Defence Ministry issued a statement accusing Armenia of violating the trilateral 2020 ceasefire, mentioning that illegal Armenian formations continue to operate within their territory. Azerbaijan directly involved Armenia in the matter and did not directly criticise Russia beyond their use of older Soviet-Russian placenames, stating that no such places in Azerbaijan exist with those names.
Geolocated videos of Azeri troops at their new locations
Video footage on 25 March was posted on the internet reportedly showing Azeri troops having overrun a Karabakhi position levelling it, with Russian peacekeeping forces observing. While the date of the video was not able to be verified, through geospatial analysis NKobserver experts were able to determine the location was most likely along a road linking Farukh and Khramort villages. The road was right along the new line-of-contact where a new road was built to connect the Armenian villages to avoid using the older one, in a no-man's-land between military positions since the 2020 war.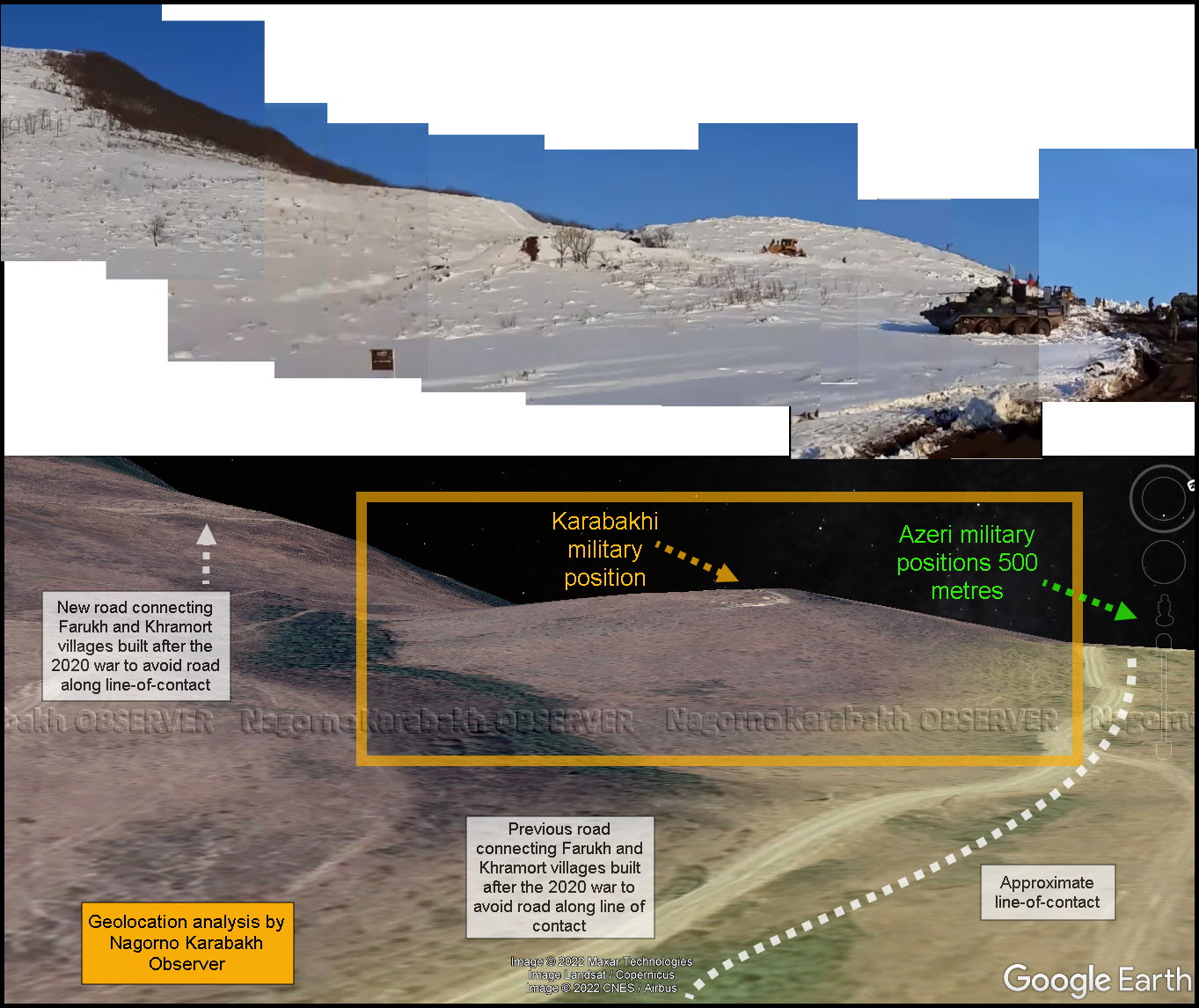 Further footage showing the depth of the Azeri incursion was verified through another video on YouTube on 25 March, showing Azeri troops more than 2 km behind the 2020 line-of-contact well above the Farukh heights. The location suggests a serious operation was carried out as opposed to a simple military position being moved forward. Azeri troops now sit atop 1000 metre heights, overlooking a valley.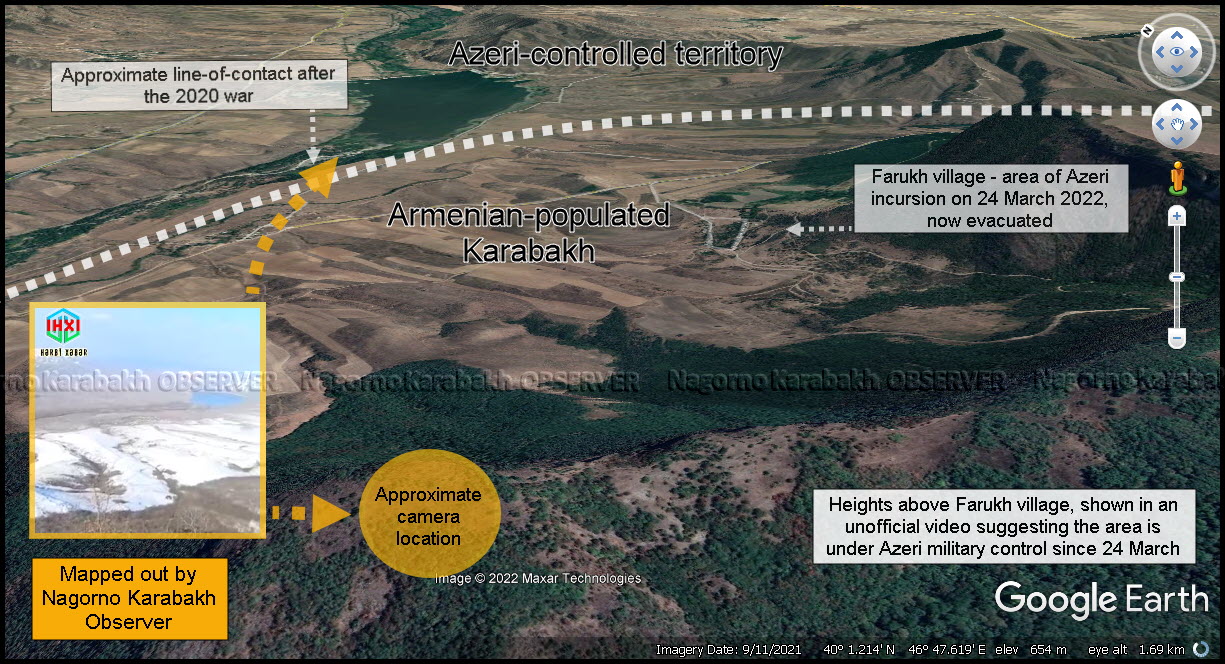 The same day of the Azeri incursion, woman and children in neighbouring Khramort village were reportedly evacuated due to security concerns.  Khramort village had been targeted repeatedly by Azeri forces, particularly  since 8 March, with reports of 60 mm mortars being used and one Armenian civilian injured on 10 March.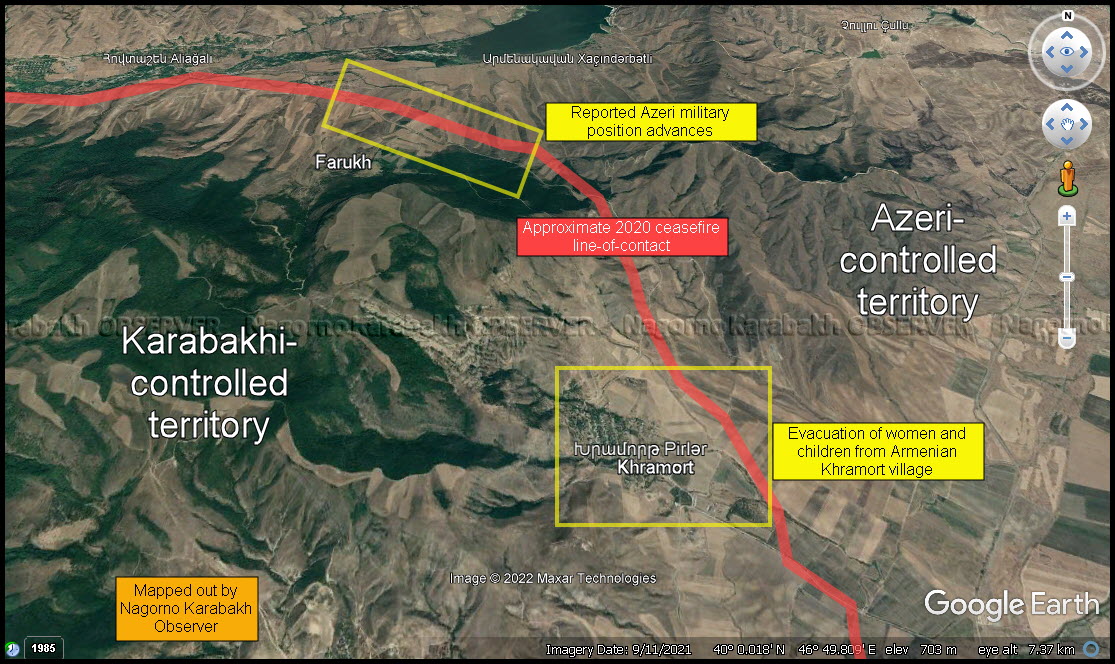 Five new villages along the line-of-contact targeted between 5 and 12 March
Prior to the 24 March events, new attacks against several villages along the line-of-contact were reported between 5 March (3 days before the interruption of the gas supply pipeline to the de facto territory) and 12 March. For example, on 5 March Norshen village was reportedly targeted by Azeri forces who fired small arms towards the village; on 9 March, Khnushinak village was targeted with four 60 mm mortar shells, while Azeri troops fired on a tractor working in the fields near Nakhichevanik village the same day; on 11 March, Khanabad village was targeted with 120 mm mortar shells; and Farukh on 11 March was targeted with mortar shells for the first time according to Karabakhi Interior Ministry reports.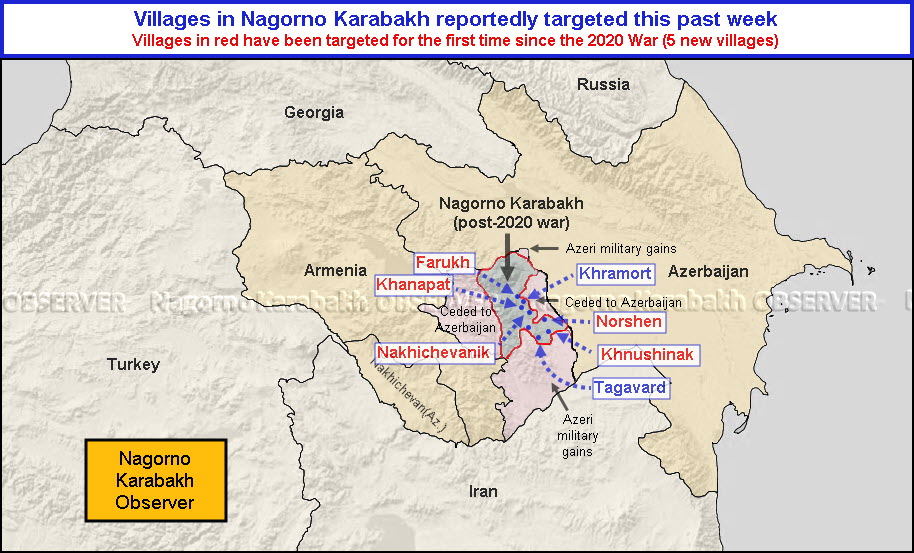 Tensions between Russia and Azerbaijan come at a strange time: on 22 February, 2 days before large-scale Russian military operations in the Ukraine commenced, Azerbaijan and Russia signed an agreement forming a strategic alliance, cooperating in the cultural, military, political and economic realms. The alliance was based on 40 points, 14 were on politico-military cooperation, 16 on bilateral trade and economic cooperation, 4 on boosting cultural ties with 1 each on parliamentary, healthcare/medical cooperation, with the remainder on the need to adhere to general international norms (UN, OSCE among others.)
Russia's Vladimir Putin and Azerbaijan's Ilham Aliyev signing the 22 February Strategic Alliance Agreement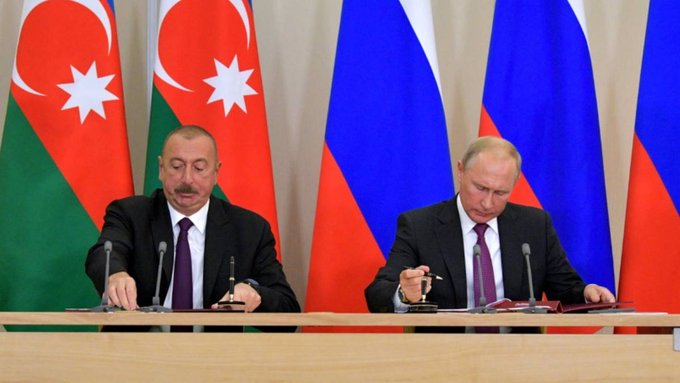 At the time of writing, Russian peacekeepers were still engaged in negotiations with Azeri officials for the latter to return back to their positions before 24 March. While deterrence has not worked well for the Russian side in Karabakh, possibly due to the relatively small size of its peacekeeping contingent in the territory (around 1,900 troops), on 26 March, Karabakh's de facto government issued a statement to the Russian government and Vladimir Putin personally to review the objectives of their peacekeeping mission and increase the contingent size. The reasons provided was that since the 2020 war, the Armenian inhabitants of the territory are still recovering from the wounds of war (sic) and are unable to live a daily life away from constant security threats. The statement ended mentioning that Karabakh's authorities were ready to use the means at their disposal for lodging further peacekeepers and that construction projects had been implemented already.
In order the increase Russia's peacekeeping contingent size in Nagorno Karabakh, the 2020 Ceasefire Agreement requires a mutual agreement between Armenia, Azerbaijan and Russia, however, this could possibly change should Russia's mission in the territory be compromised at a time when its ongoing military operations in the Ukraine have drawn strong criticism. The needs of Russia to secure its southern gates in the Caucasus remains just as important as the geographic territories of the Ukraine and Central Asia. A unilateral increase in peacekeeping forces in Karabakh would go against the interests of Azerbaijan, clearly violating Strategic Alliance signed with Russia one month ago.
While geopolitical developments are almost impossible to predict, the incursion of Azeri troops into now Russian-administered territory in Karabakh can have aggravating consequences for months, possibly years to come should bilateral relations sour.