In a significant gesture of bilateral relations, Turkey's Defence Minister, Gen Hulusi Akar, paid an official visit to the Nakhichevan to meet with his Azeri counterpart Gen Zakir Hasanov. This is significant in that, it is the first official visit by Akar to the enclave.
Gen Akar's visit included overseeing and observing the joint military exercises that had started two days ago, as well as meeting with his Georgian and Azeri counterpart in a trilateral defence minister meeting outside of Nakhichevan.
Official footage provided by Turkey's Defence Ministry
Gen Akar was received at the Nakhichevan army's headquarters for an official ceremony, after which he visited the Heydar Aliyev Military Academy. The two defence ministers later met for talks aimed at further developing and integrating Turkey's and Azerbaijan's military cooperation. Besides meeting with his counterpart, Gen Akar also met with Nakhichevan's governet, Vasif Talibov, and visited several cultural sites in the capital. The importance of this first-time visit was highlighted by the Azeri military authorities in numerous official publications (1,2,3,4) as well as their Turkish counterparts (1,2)
Gen Akar visiting the Heydar Aliyev Military School with his counterpart Gen Hasanov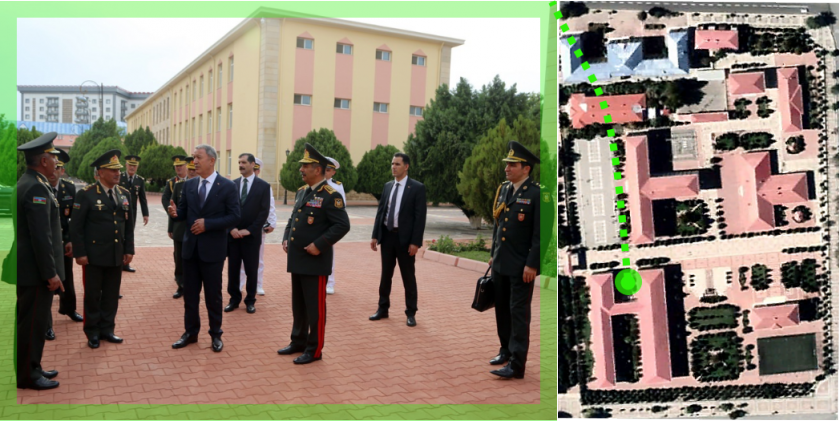 Turkey and Azerbaijan have carried out joint military exercises in Nakhichevan in 2015, 2017, 2018 and 2019(January, June).   Besides numerous other joint-exercises in mainland Azerbaijan.  During his officially published speech fragments, no direct reference was made to Armenia or Nagorno Karabakh, but rather he underlined that the two nations (Turkey and Azerbaijan) will take on any threat provocation together.
Official pictures of the visit.
Top: Gen Akar meets with local military officials and Nakchevan governer, Vasif Talibov. Bottom: Visiting the Heydar Aliyev Military School (note tank simulations on bottom left)