A rare statement came out of Azerbaijan's Defence Ministry today. Reportedly for the first time since records are kept online Azeri officials stated that on 23 June, the situation on the line-of-contact was "relatively calm" with "a sporadic few shots heard along the line-of-contact", something that follows nine days of ceasefire violation reports stating the use of snipers and even grenade launchers.
Ceasefire violations reported by Azeri side during month of June
Source: Azerbaijan Defence Ministry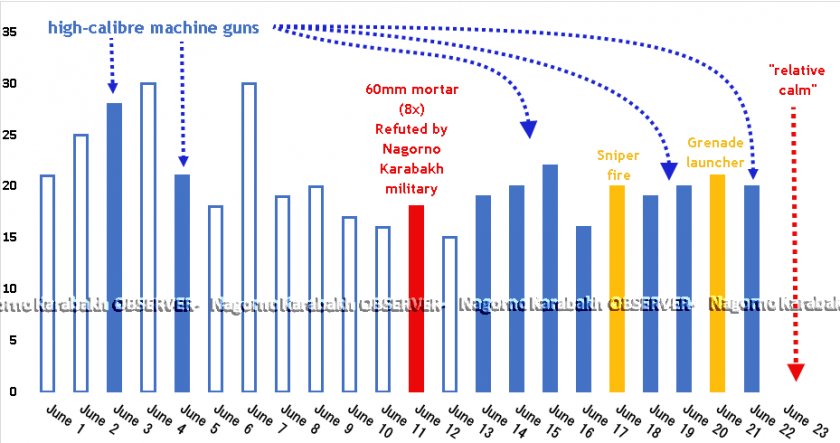 While Armenian authorities provide weekly reports, the report starting 23 June has yet to come out. However, judging by last week's reports, tension on the line-of-contact was high with Armenian authorities registering an average of 262 shots per day from the Azeri side. Armenian authorities also reported the use of 60 mm mortars on four occasions and 30 cases of grenade launchers being used against the line-of-contact.
Ceasefire violations registered by the Armenian side during June
Source: Nagorno Karabakh Defence Ministry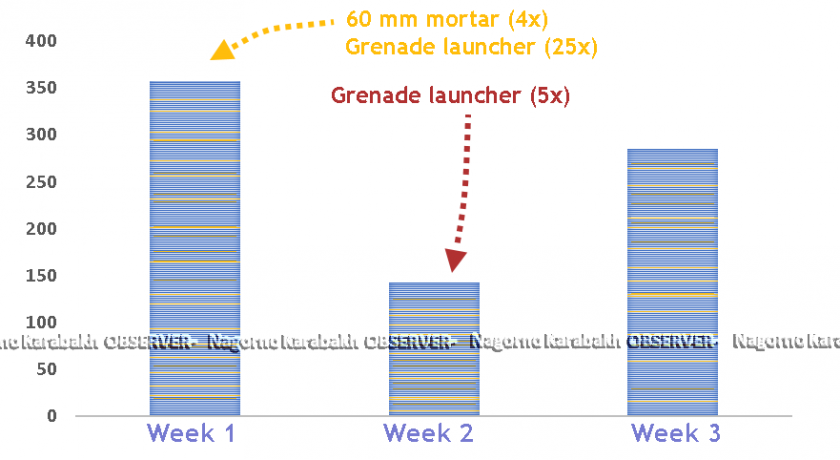 It is worth mentioning that this past week Azerbaijan has recorded the lowest ever number of ceasefire violations from the Armenian side, 15 violation cases.
The exact methods of measurement are undisclosed,  the two sides possibly use different techniques to measure the ceasefire violations and classify them differently, thus showing a discrepancy in numbers from each side. However, the Azeri side has generally recorded the lowest numbers this month.  In all, it is important to remember that tension between the two sides is not solely measured by ceasefire violations, but also troop movements, official statements, military exercises (location, troop quantity, weapons tested, etc.) and other factors.