Armenian Defence minister Artak Davatyan and the head of Azerbaijan's State Border Service (SBS), Elchin Guliyev, apparently visited military outposts and installations in the same area, possibly within hours of each other. This comes amid heightened tensions between the two sides, not so much on the Nagorno Karabakh front, but on the internationally-recognised border between the two countries.
Approximate area of visits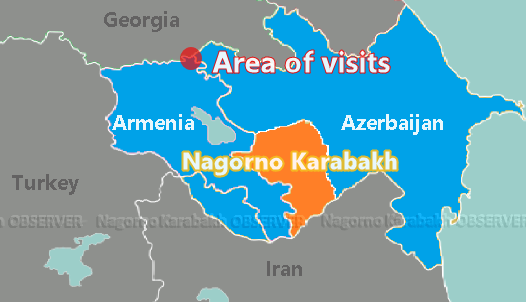 On 29 July, Armenia's Defence Ministry announced that minister Artak Davtyan visited undisclosed border outposts and military bases in the northeastern part of the country. Davtyan came to follow up on issues such as the morale of the troops, sanitary and food-supply issues, combat and structural capabilities of the station units.  The statement highlighted that the minister also came to review renovation and construction works on border outposts, aimed at strengthening military positions.
Photos of the visit provided by Armenia's Defence Ministry
[metaslider id=4686]
On 30 July, Azerbaijan's SBS head, Elchin Guliyev, himself visited troops in the district of Gazakh, just adjacent to were his above-mentioned counterpart had been. The official reasons for Guliev's visit remained similar: to boost combat-readiness, review the well-being of troops and to boost as well as other security issues.
The area visited by the two generals could have possible been the same. An analysis of photos provided by Armenia's Defence Ministry revealed a high possibility that the area visited by Davtyan were right near the border with Georgia. While the Azeri SBS did not provide any photos of landscape, Elchin Guliyev has been in the area several times in recent weeks, stressing a possible interest in the area(1). Besides, both sides have increased their trench systems, renovating and constructing new military outposts in the area.
Newly-constructed Armenian and Azeri military positions just a few dozen metres from the Georgian border