Azerbaijan's deputy Defence minister, Kerim Valiyev, visited what official sources stated as the "frontline" areas today to follow up on winter provisions. Local units and their commanders received the high-ranking official, who also showed an interest in their morale, physical well-beiing, as well as general living standards for the upcoming winter season.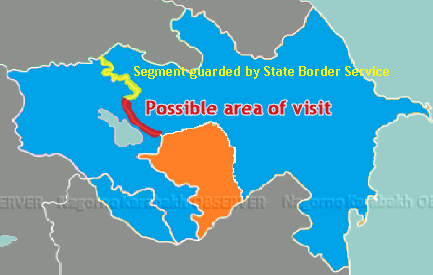 While the exact area of the visit was not mentioned, it was mentioned that the area visited was that of harsh climate conditions and high mountainous areas.  Considering the visit description of the area, it is highly probably that the visit took place on Azerbaijan's western border with Armenia, running along the Lake Sevan. Military positions from both sides here range from 1.800 metres in altitude to 3.000 metres, and are on average around 700 metres apart from one another on this segment, some reaching distances of over 1 km, mainly due to the mountainous terrain.
Official photos from the event provided by Azerbaijan's Defence Ministry
[metaslider id=4740]
Some military experts state that this segment remains a weak point for Azerbaijan's armed forces, who in recent years have acquired a large quantity of armament types, particularly ones for mobile combat operations possible near the line-of-contact with Nagorno Karabakh, but with limited capabilities in highly-mountainous terrain.
An example of military positions in the area on the Armenian-Azeri border
Of note: these are the closest outposts on one of the highest segments of the border