As an update to the situation, several new theories have emerged putting into doubt the initial hypothesis that Armenian conscript Arayaik Ghazarian abandoned his military position and fled to the Azeri side due to beatings.
Area of occurrence along the southern segment of the line-of-contact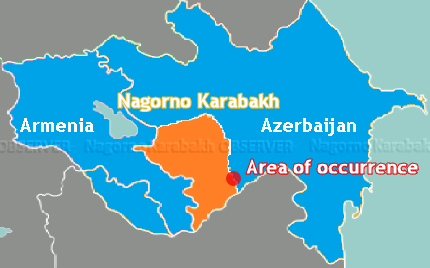 The Azeri side has stayed consistent with their side of the story affirming that Ghazarian fled his military outpost. According to them, this past week Azerbaijan's Ombudsman, Elmira Suleymanova, met with Ghazarian to get acquainted with the conditions of his detention and abandoning of military positions (sic).
Interestingly, from the Armenian side NGO head, Karen Hovhannisian, commented on his findings after analysing the photos made public from the Azeri side. According to him, Ghazarian did not flee his post, but was kidnapped and dragged to the Azeri side; the photo analysis states that Ghazarian was most likely hit on the back of the head with the stock of a rifle, rendered unconscious and subsequently dragged away from his military outpost to the Azeri side.
Hovhannisian comes short of stating that a covert operations mission took place by Azeri troops, but considering the circumstances of his findings, one cannot disregard that possibility.
Photo analysis of Armenian NGO head Karen Hovhannisian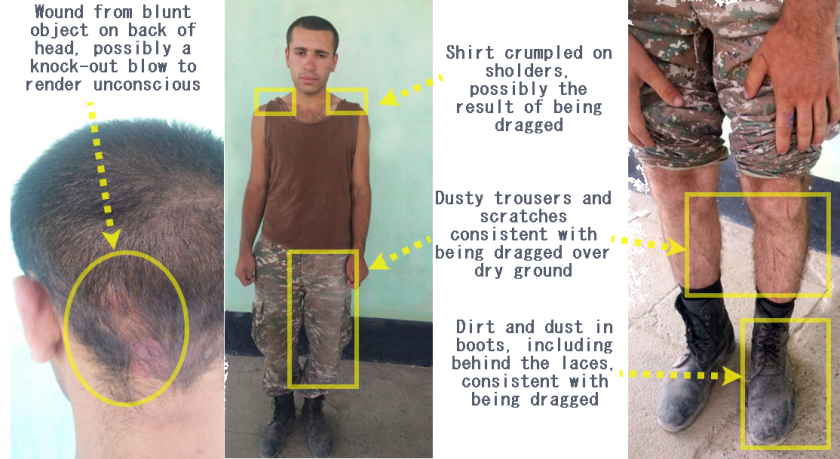 Armenian Defence officials have solicited the International Committee of the Red Cross to visit Ghazarian, which, according to the Armenian Ombudsman, Arman Tatoian,, have yet to visit him (1, 2, 3).
This incident comes just days after Armenian Prime minister Nikol Pashinian's visit to Stepanakert and his speech which enraged Azeri authorities after he used the term "miatsum" (Arm. union) and stated that Nagorno Karabakh "is Armenia, period!" in his speech, slogans of the 1988 movement. While some experts have stated that this move will most likely not change the negotiation process, some state it shows inconsistency between Pashinyan and Armenia's Foreign ministry.
While Nagorno Karabakh Observer is reluctant to comment on the political aspect of the Nagorno Karabakh conflict, this latter detail could possibly be linked to Ghazarian's case. If this indeed was a case of covert operations on behalf of the Azeri side, it could possibly show that these types of operations, common in the past, are still on the agenda, and require months of careful monitoring of military outposts for potential weaknesses.