On 30 March, a border skirmish broke out on the northern segment of the international border between Armenia and Azerbaijan.  News of the incident was given by both sides, however each appeared to differ from the other. The initial report, by the Azeri State Border Service stated that on 30 March, starting around 17.30 hours, civilian vehicles and homes in the village of Kushchu Ayrim were shot at with high-calibre machine guns from Armenian positions near the villages of Baghanis and Voskevan.
Area the South Caucasus showing the of the incident (red) and disputed territories (orange)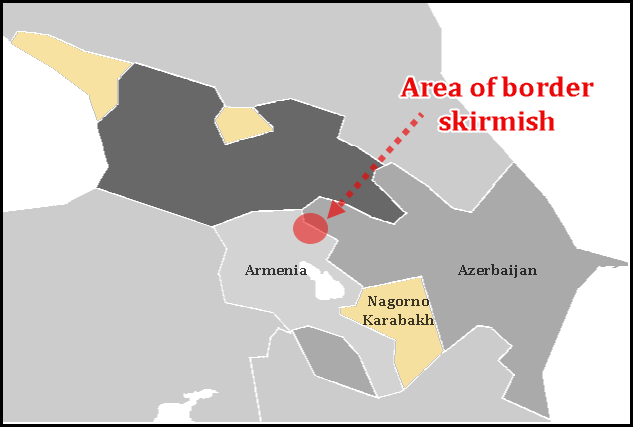 On the same day, Armenian defence officials also published news on the incident, stating that an Azeri unit attempted a border incursion near one of its positions in the Noyemberyan region; the incursion was repelled, leaving two servicemen lightly injured. Additionally, a child looking out of the window in the village of Voskevan, near the border, was also injured, according to the report.
Local media from both sides reported on the incident, with one from Sputnik Armenia, showing brief footage of the moment shots were fired; additional reports quoted from the Defence spokeswoman mentioned that the two injured servicemen were transported to Yerevan for treatment. Azeri media also reported on the incident, adhering to the general statement of the country's officials, which refuted the news from the Armenian side (1, 2, 3). No further details on the incident are available.
At least 11 reports on border skirmishes have taken place in the area this month within 10 km from this area, six of which occured in the immediate vicinity (1, 2, 3, 4, 5, 6). Tension on this part of the Armenian-Azeri border has been on the rise this year, with injured and at least one killed from both sides in this area.