On 1 June, news was revealed about a possible incident in which an unknown Azeri troop-carrying vehicle was apparently attacked by Armenian forces on the border between Armenia and the Azeri exclave of Nakhichevan. A low-quality video of what appears to be a burning vehicle near a mountain or rugged terrain was published online, which according to online sources was an Azeri military vehicle with troops near military positions.
While the spokesperson for Armenia's Defence Ministry, Shushan Stepanian, did not comment on the incident, she did mention that "Armenia does not carry out preemptive attacks, but rather respond to provocations" adding, "any provocation or activity from the enemy receives its response."
Video of the incident as shown on numerous media sources and online users
At the time of writing, there was no official comment from Azeri defence officials. No further details, including about injuries or deaths on the incident was made public. To confirm, the video was not officially confirmed by Armenia nor Azerbaijan.
While the exact location was not able to be verified through the video alone on open sources,  NK Observer experts were able to pinpoint a possible location from a still image of the video, possibly showing a body of water, which, if it did occur on the Nakhichevani-Armenian border, would most likely correspond to the Arpachay resevoir. This area also saw new gains from Azeri troops forwarding their positions within their territory in 2018 with more visibility towards the Armenian town of Areni according to official sources.
A geospatial analysis of the incident's possible location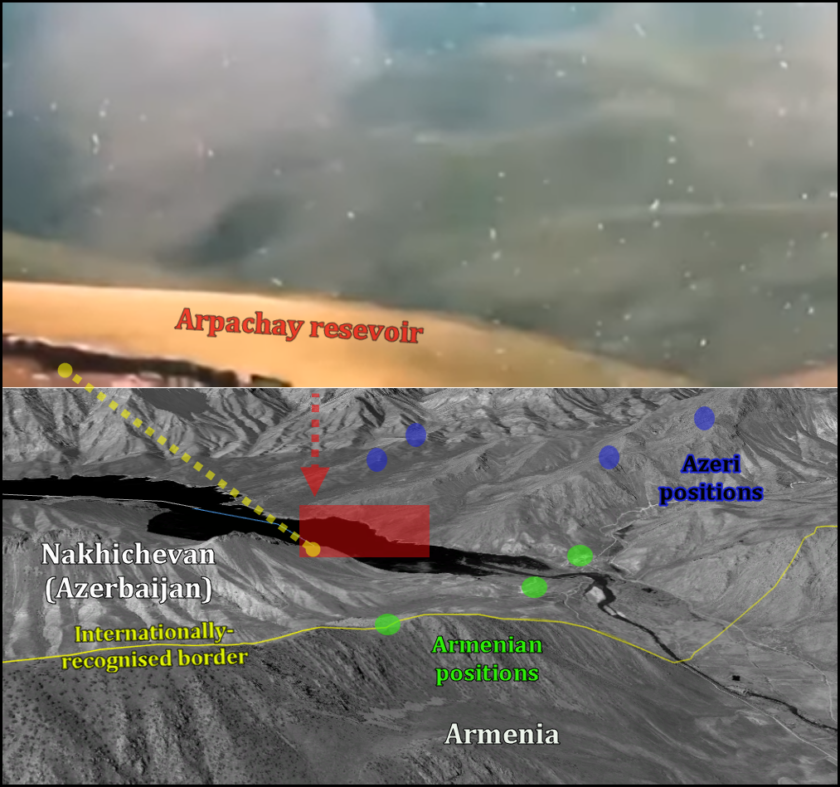 The incident comes amid heightened tensions, as last week an Armenian vehicle, reportedly belonging to an officer according to Azeri sources, was fired upon and burned near Armenian military positions in Nakhichevan.