Armenia Defence Ministry footage from 4 and 9 November, just before the end of the Second Karabakh War shows  coordination with unmanned aerial vehicles (UAV), very likely Russian-made Orlan-10, with artillery targeting Azeri units near Karintak-Shushi (also known as Shusha by the Azeri side). This appears to be the second video showing such a UAV since the war started on 27 September 2020. 
Video from Armenia's Defence Ministry showing the use of UAVs from 4 November near Shusha
Footage from 9 November showing the second use of UAV's by Armenian/Karabakhi forces near Karintak/Shusha, provided by Armenia's Defence Ministry
Comparing the screenshots below, it is probably an Orlan-10 UAV, the previous video was on 4 November (see above video). Screen configurations are a bit modified on the Russian footage of the same UAV, but overall looks are similar and consistant with other open-source reports of Orlan-10 use.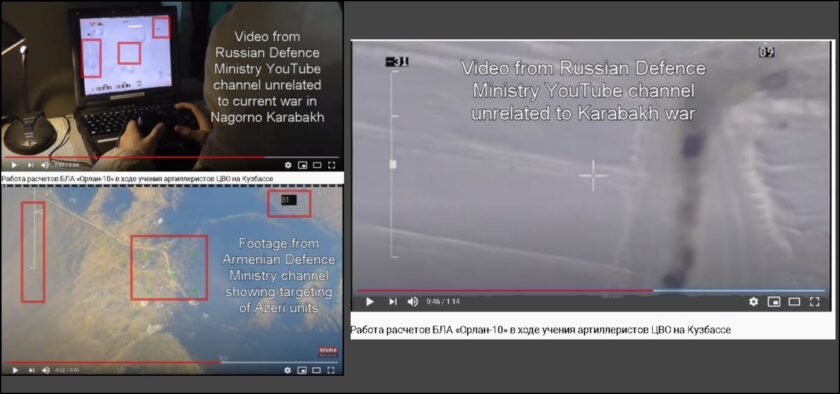 A geolocation of at least one of the parts of the video is provided below, the location of the other parts of the footage are inconclusive but most likely in the vicinity of the area mentioned below, just above Karintak village.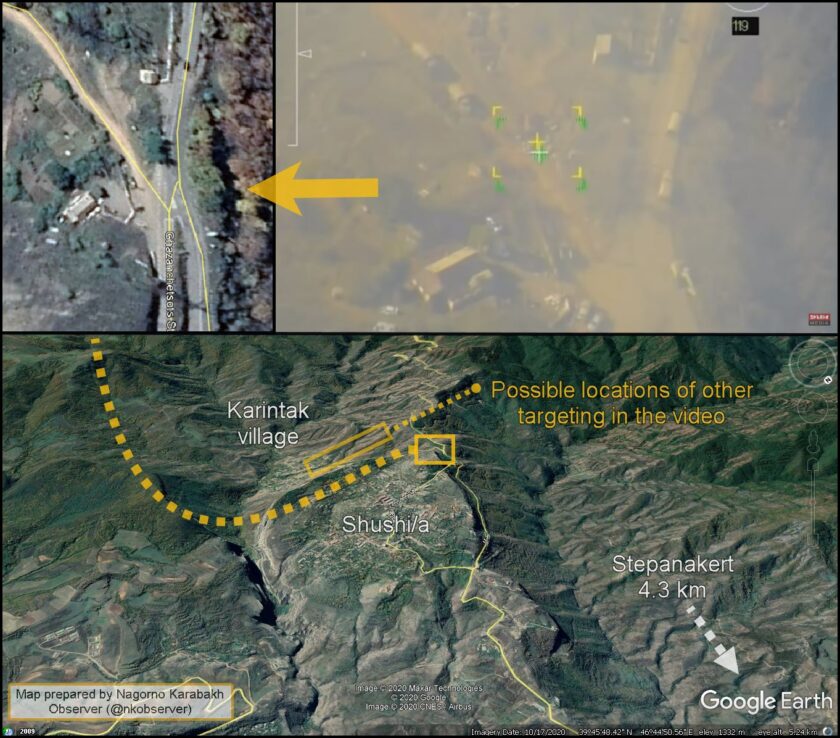 These videos are significant because it's not common to see videos of Armenian/Karabakhi forces using UAVs in coordination with artillery and mortars particularly during this war. There is no specific information available on whether these UAV's are new part of their arsenal, but similar footage has not been seen before.
Based off of our Tweet:
1/3 – New #Armenia MoD shows UAV coordination (very likely Russian-made Orlan-10) with artillery targeting Azeri units near Karintak-Shushi/a. Apparently the 2nd video showing such a UAV during the war. (see thread)https://t.co/pP4U551x2W#nagornokarabakh #azerbaijan #russia

— Nagorno Karabakh Observer (@NKobserver) November 9, 2020