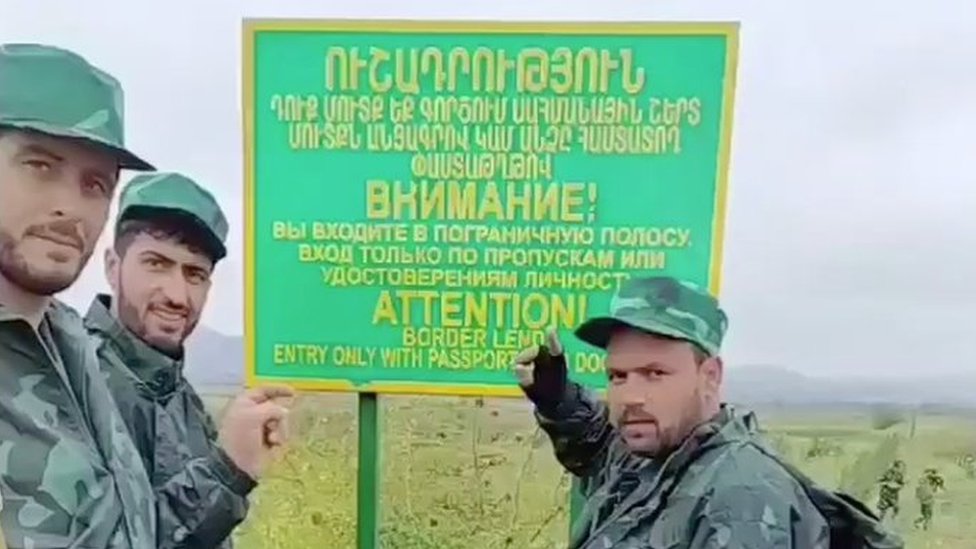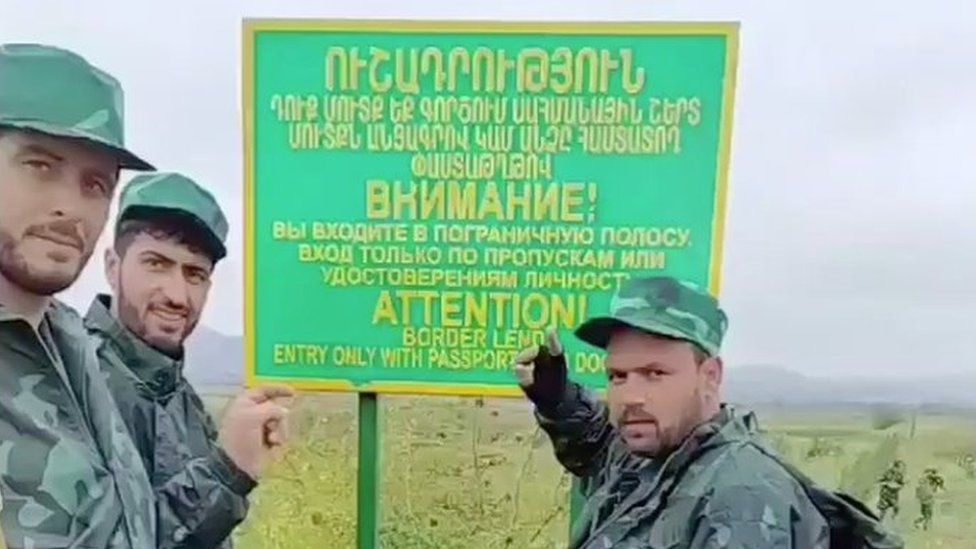 Turkey and Azerbaijan deny that Syrian mercenaries were used in the recent offensive in Nagorno-Karabakh but four Syrians have told the BBC that after enlisting for sentry duties in Azerbaijan, they were unexpectedly thrown into battle on the front line.
It was back in August of this year that the rumours started to circulate in rebel-held areas of northern Syria: there was well-paid work to be had overseas.
"I had a friend who told me that there is a very good job you can do, just to be at military checkpoints in Azerbaijan," one man told me.
"They told us our mission would be to serve as sentries on the border – as peacekeepers. They were offering $2,000 a month! It felt like a fortune for us," said another, whom I will call Qutaiba.
Both applied for the job through Turkish-backed rebel factions that make up what's known as the Syrian National Army, a force in northern Syria opposed to President Bashar al-Assad.
In an area where few earn more than $1 a day, the promised salary seemed like a godsend. It's estimated that somewhere between 1,500 and 2,000 men signed up and travelled to Azerbaijan, via Turkey, on Turkish military transport aircraft.
But the work wasn't what it seemed. The men, many of them with no military experience, were being recruited for war – as they soon discovered when they were taken to the front line and ordered to fight.
"I didn't expect to survive," Qutaiba says. "It seemed like a 1% chance. Death was all around us."
Nagorno-Karabakh is a disputed enclave that fell under Armenian control during a bloody conflict that ended in a ceasefire in 1994. Tens of thousands died and hundreds of thousands were displaced, both from the enclave itself and from surrounding territory occupied by Armenian forces. The international community has not recognised the self-declared Republic of Artsakh (the Armenian name for Nagorno-Karabakh) and this year, sensing its growing military superiority, Azerbaijan decided to go on the attack.
Although Azerbaijan and its ally Turkey deny the use of mercenaries, researchers have amassed a considerable amount of photographic evidence, drawn from videos and photographs the fighters have posted online, which tells a different story.
The Syrians seem to have been deployed on the southern flank of the Azeri advance, where casualties on both sides were extremely high. The fighters I spoke to came under heavy fire and seemed to have been traumatised by their experiences. They didn't want to be identified, for fear of reprisal from militia commanders, so I have given them different names.
"My first battle began the day after I arrived," says Ismael.
"I and about 30 guys were sent to the front line. We walked for about 50m when suddenly a rocket landed near us. I threw myself to the ground. The shelling lasted for 30 minutes non-stop. Those minutes felt like years. It was then I regretted coming to Azerbaijan."
"We didn't know what to do, how to react," says Samir, who adds that he and many of his fellow recruits had virtually no military experience or training.
"I saw men dying, and others who just went crazily running. They didn't have any sense of where they were going, because they were basically civilians."
All of the men say they were given little protective equipment or medical support. Many of their fellow fighters appear to have bled to death from wounds that battlefield medics could easily have treated.
A video posted online in early October and geolocated to the front line near Horadiz shows a 23-year-old Syrian praying as shells land nearby – he has been identified by researcher Elizabeth Tsurkov as Mustafa Qanti from Hayyan, near Aleppo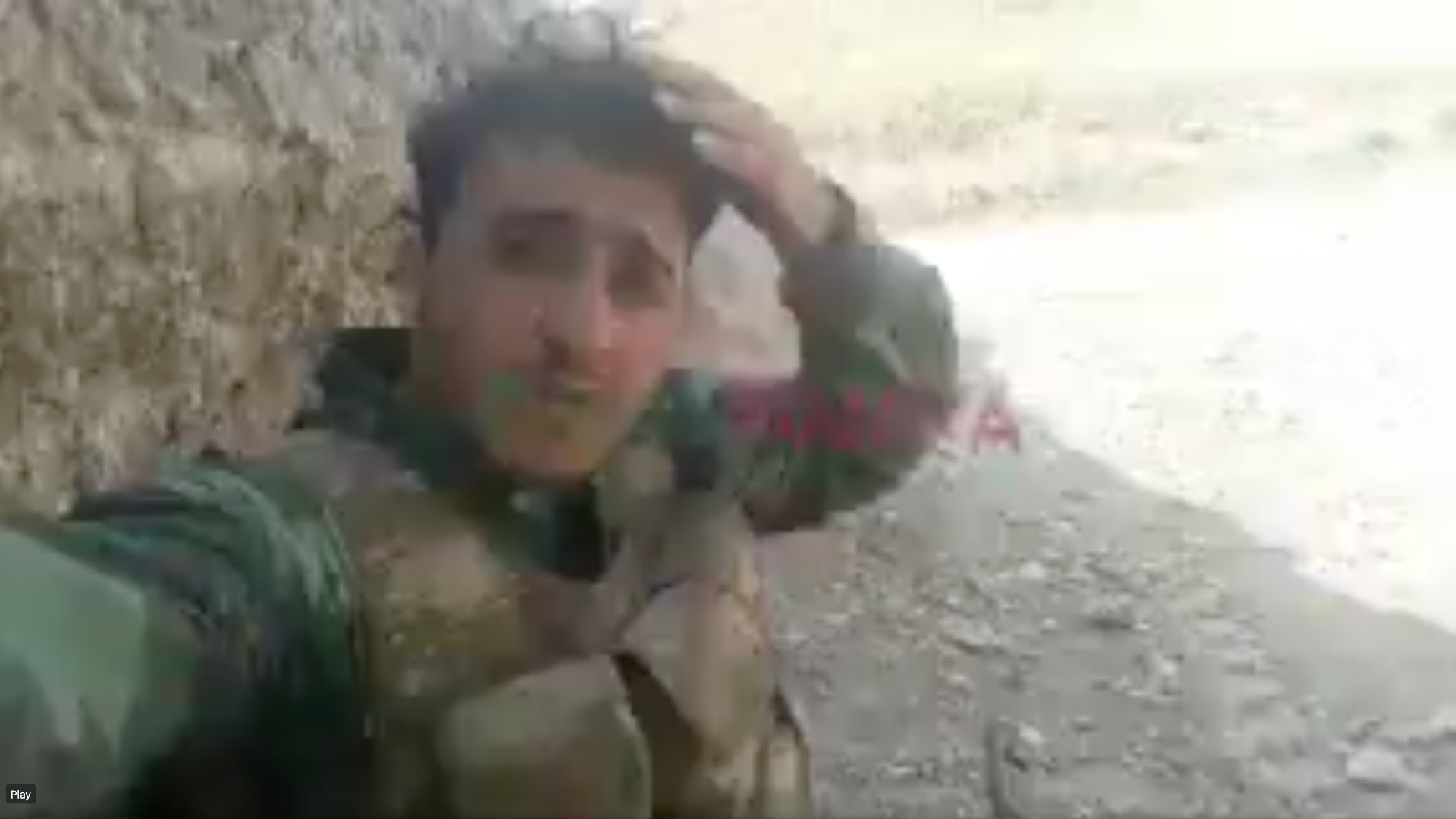 "The hardest moment was when one of my mates was hit," says Ismael, who was himself later hospitalised with shrapnel wounds. "He was 20m away from me when the shell landed. I saw him fall. He was calling to me, screaming. But his spot was exposed to the Armenian machine guns. I couldn't help him. In the end, he just died there."
Another Syrian says he was paralysed by fear when the shelling started.
"I remember I just sat on the ground and cried and my injured friends started to cry as well," he says. "One guy got shrapnel in his head. He died right there… Every day I see this. When it comes to me, I sit and cry, even now. I don't know how I survived this war."
Estimates vary as to the exact death toll among the Syrian fighters. The Syrian Observatory for Human Rights, a UK-based group that monitors the conflict in Syria, puts the figure at more than 500. This compares to reported figures of more than 2,400 on the Armenian side, and nearly 3,000 on Azerbaijan's side, though Azerbaijan doesn't acknowledge that any Syrians were among them.
"We don't use mercenaries," the country's president, Ilham Aliyev, told the France 24 news network in October.
"This is our official statement and since the outbreak not a single country presented evidence of that. And moreover we don't need that. We have an army of more than 100,000 fighters and what we are doing now on the ground demonstrates that our army is capable of liberating its lands itself."
This is an interesting point. Why would Azerbaijan recruit Syrian fighters?
A video of four Syrians in Azerbaijan listening to a song about a Syrian National Army division was posted online by Syrian news publication Jesr Press
IMAGE COPYRIGHT

JESR PRESS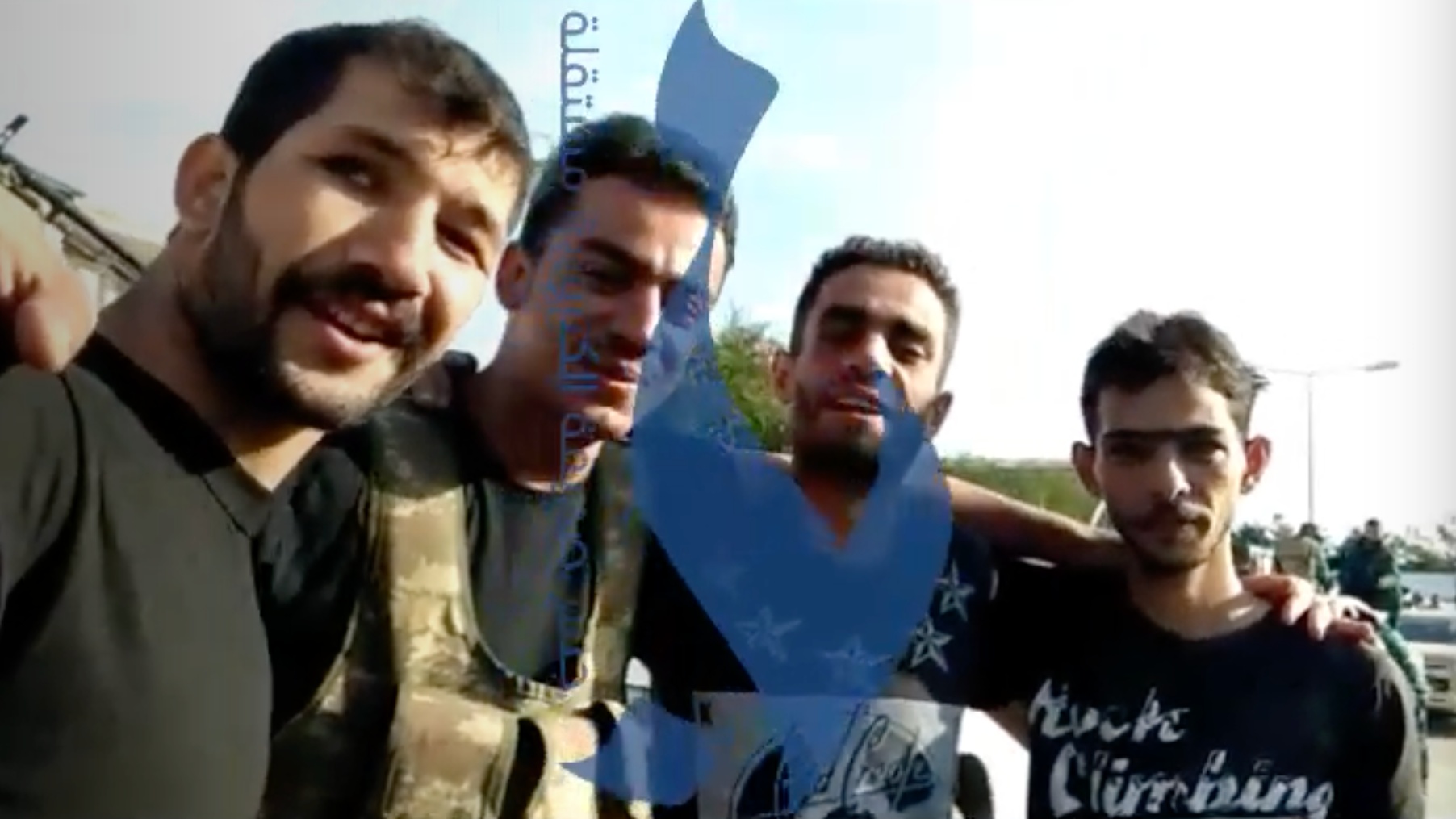 Military analyst Michael Kofman, head of the Russia programme at the CNA military research centre in Washington DC, says the goal seems to have been to minimise Azeri troop casualties.
"They took quite a few casualties early on, especially in the south-east, and these mercenaries were essentially used as expendable assault troops to go in the first wave," he says.
"They calculated quite cynically that if it turned out these offensives were not successful early on, then it was best these casualties would be among mercenaries not Azerbaijani forces.
'Nobody cares about mercenaries."
Kinan Farzat, who is reported to have died in Nagorno-Karabakh, was a major in the Syrian National Army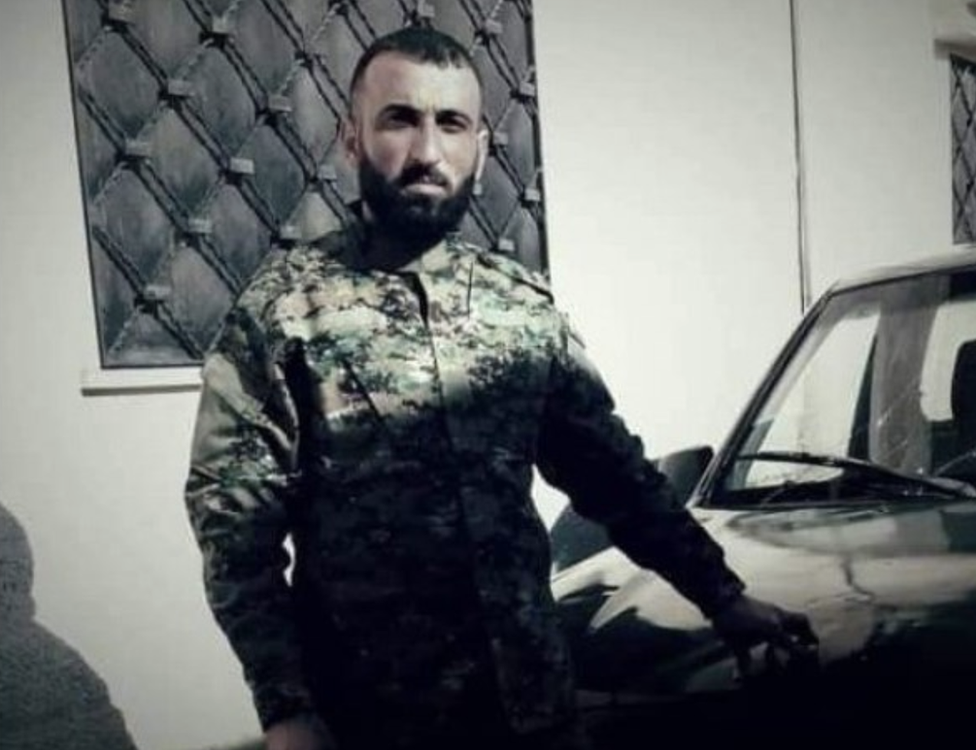 Elizabeth Tsurkov, a fellow at the Centre for Global Policy, also in Washington DC, who has spoken to dozens of Syrians who took part in the conflict, agrees that they were "used as cannon fodder".
"They're cheap. They can be rushed to the front line with very little preparation, as was the case in Azerbaijan – essentially people to whom you can strap a Kalashnikov and tell, 'Go capture that hill, go capture that forest,'" she says.
And, she points out, they are desperately poor, "so they are willing to go and risk their lives".
However, within a few days of the outbreak of the fighting in Nagorno-Karabakh, in late September, hundreds were laying down weapons and refusing to fight. Two of those I spoke to were among them, and one sent a video of the strikers outside the barracks where they were stationed.
A scene from a video sent to the BBC, said to show Syrians who refused to fight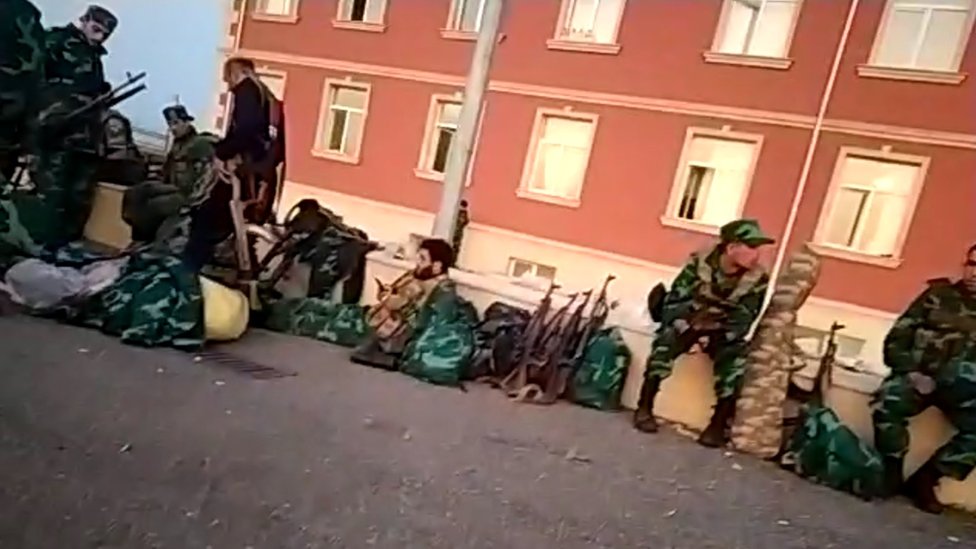 "The commanders started to threaten us that they'd put us in jail in Azerbaijan for nine months. Then they told us that even when we got back to Syria, they'd arrest us," says Samir.
"But there were 500 of us on strike at that point and we did start to have an effect on them. They put together a list of our names. Then five or six days later they came and told us to get ourselves ready: 'You are leaving.'"
Samir says that none of these men were paid a penny of the $2,000 they had been promised, and many did not get back the personal possessions they had arrived with in Azerbaijan.
He also claims that on their return to Syria, commanders of a rebel faction summarily killed four men accused of organising the strike. The BBC has been unable to verify this allegation.
Nagorno-Karabakh is not the first conflict in which Syrian fighters have been recruited to serve recently. Allegedly through Russian and Turkish-backed security firms, Syrians from both the rebel and government-held areas have been fighting in the civil war in Libya for the last year or more – and on different sides.
A mercenary representing the internationally recognised Libyan government forces, supported by Turkey, told me he'd personally participated in the capture of former pro-Assad Syrian soldiers when driving back Russian-backed forces loyal to Gen Khalifa Haftar.
An alleged Syrian mercenary captured by forces loyal to Libyan general Khalifa Haftar in Benghazi
IMAGE COPYRIGHT

GETTY IMAGES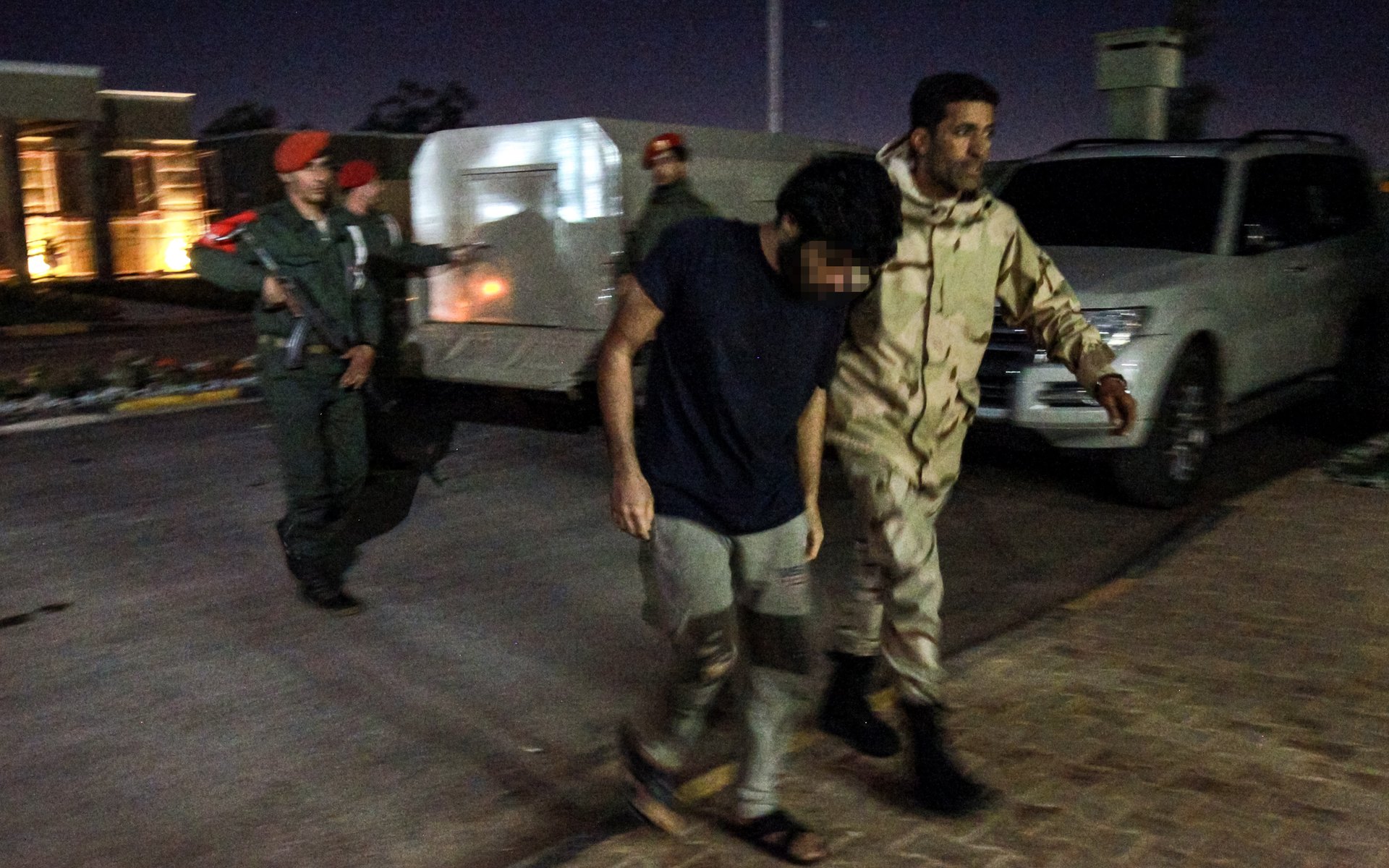 Turkey has acknowledged that Syrian fighters are present in Libya, though has not admitted recruiting them.
"We are not sending fighters to Libya. We have deep historical and close kinship ties to Libya and we want to see a political solution and in Libya now there is a chance for peace and talks," Turkey's ambassador to London, Umit Yalcin, told me.
When I mentioned what the Syrian fighters had told me about Turkey's role in recruiting them to fight in Nagorno-Karabakh, he echoed Azerbaijan's official denials. "Of course these claims are baseless and not helpful in terms of achieving justice and peace and stability," he said. "We should focus on the deal for peace and justice in the region."
He also alleged that Kurdish mercenaries had been fighting on the Armenian side – a claim Armenia has rejected.
Calling on 11 November for mercenaries in the conflict zone to be withdrawn, UN human rights experts said widespread reports indicated that Turkey had engaged in large-scale recruitment and transfer of Syrian men to Azerbaijan. At the same time, they said they were looking into reports that Armenia had been involved in the deployment of foreign nationals to fight in the conflict.
A shot apparently of Syrian fighters in a barracks in south-western Azerbaijan – they are wearing the aqua-tinted fatigues of the Azeri border guard service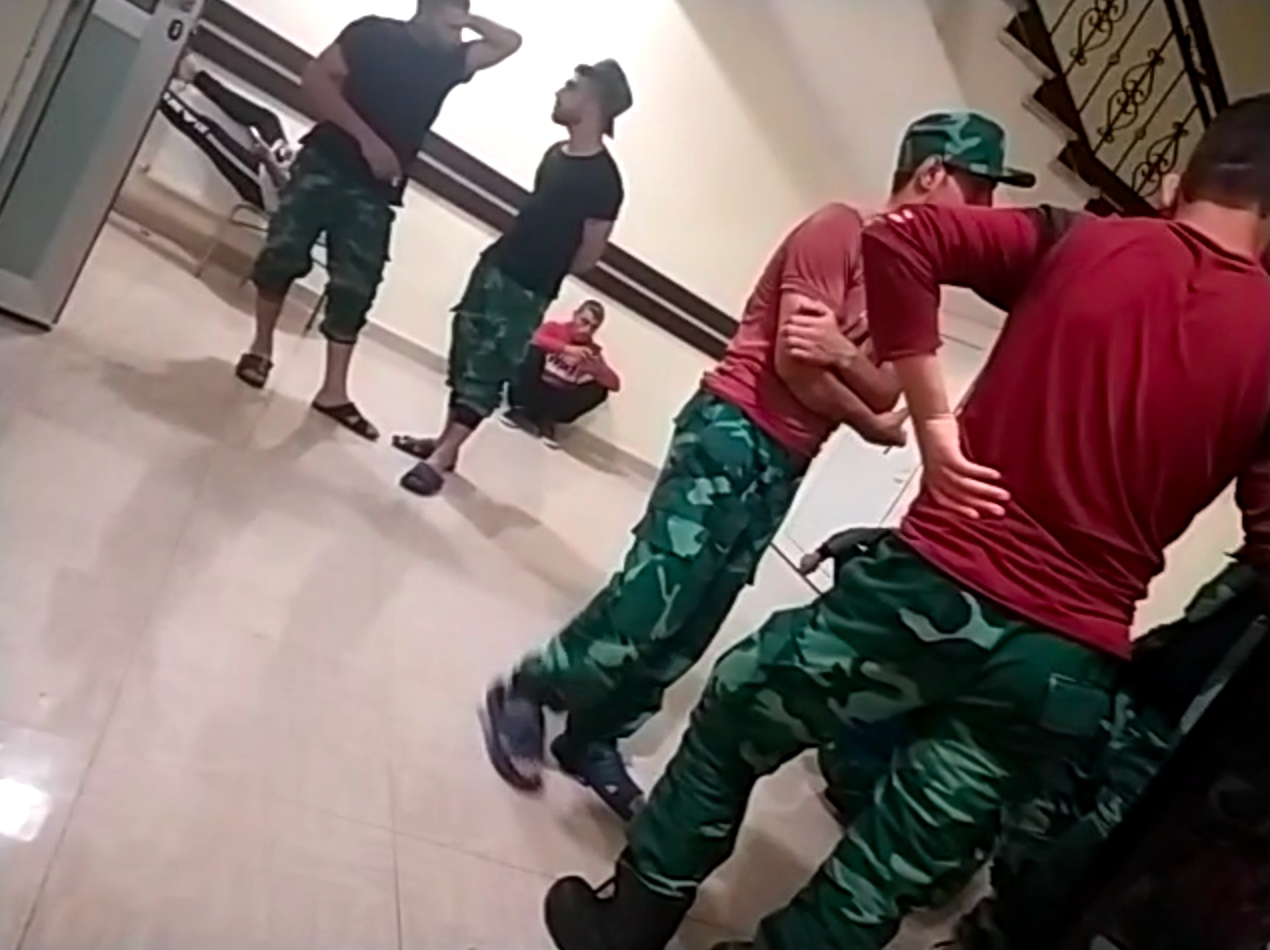 Today, a Russian-brokered ceasefire is in operation in Nagorno-Karabakh. Under its terms, Azerbaijan has reclaimed a significant proportion of the land it lost in the 1990s. Military analysts say that it was above all its superiority in the air, using Israeli and Turkish drone technology, that enabled Azerbaijan to achieve the victory it now claims.
Meanwhile, back in Syria, two of the mercenaries are trying to put the experience behind them.
"I feel guilty for becoming a mercenary. I feel ashamed," says Samir, even though he refused to fight after just three days on the front line.
"When people ask me, 'Did I travel?' I say no – even though they know that I went. I feel like I am very small in their eyes… When I got there I did say no to war. I objected to what was happening. But I'm ashamed because I trusted the mercenaries. That's why I feel shame."
 

Military vehicles carrying drones made by an Azeri-Israeli joint venture take part in a rehearsal for a military parade in the capital, Baku

IMAGE COPYRIGHTGETTY IMAGES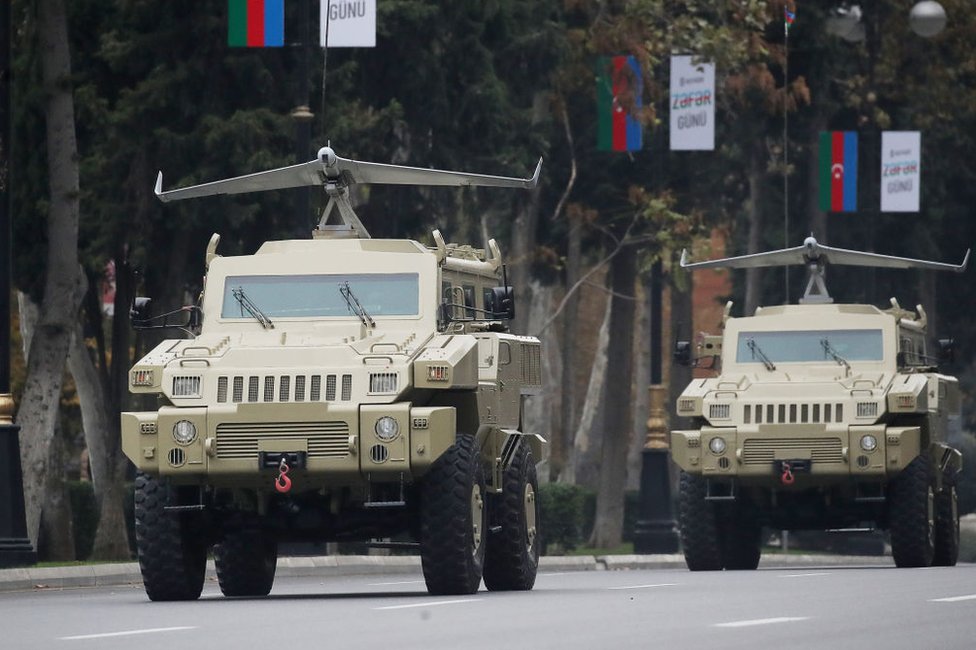 This month there are unconfirmed reports in Syrian media of a new recruitment drive in government-controlled areas. It's suggested that former pro-Assad soldiers have been signed up, through Russian intermediaries, to guard "oil installations" in Venezuela, on the promise of generous salaries. The BBC has not been able independently to confirm these claims. But Elizabeth Tsurkov says that, if true, it would follow a familiar pattern.
"The problem is Syria is so destroyed, the economy is so destroyed, that any actor wishing to recruit fighters on the cheap can find them in Syria," she says.
"You know, this is a population that has suffered immensely – displacement, chemical weapons, starvation, sieges, extermination in prisons – and now Syrians are basically just accepting the logic of an international community that does not value their lives and sees them as pawns."
I ask Samir what he would say to fellow Syrians tempted by similar offers of work abroad.
"I'd tell them you'll lose everything, even your dignity. You won't get anything and you might lose your life. Even if you are poor, being desperate here in Syria is way better than going to fight for something far away you don't know anything about."
Qutaiba, who joined the rebel Free Syrian Army as a student at the start of the revolution, asks those who would judge the Syrians who travelled to Azerbaijan to imagine what it is like being unable to afford milk or nappies for their children.
"Those who see us as mercenaries, they don't see our poverty and our need. We would do anything to help our children. It's the worst thing to see your child needing milk and you can't provide it. In our place you too would make the same decision."