On Thursday, 28 March 2019, the OSCE mission to the Caucasus conducted another ceasefire monitoring mission along the line-of-contact between the de facto Nagorno Karabakh and Azerbaijan.
According to authorities in Stepanakert (known by the Azeri side as Khankendi), the mission took place at military outposts just northwest of the village of Seysulan, in the Martakert region.  On the Nagorno Karabakh side  the event was led by Field Assistants Mihal Olaru and Simon Tiller, from Moldova and United Kingdom respectively.
On the Azeri side of the border leading the ceasefire mission were  OSCE representative Ghenadie Petrica (Moldova) and Ognjen Jovic (Bosnia and Herzegovina).
According to the Azeri Defence Ministry,  the incident took place without any incidents, with no further details provided on the exact location. Although from official Armenian sources the area in question is approximately 600 metres from the Azeri village of Qapanli.
Map of the area showing both villages and line-of-contact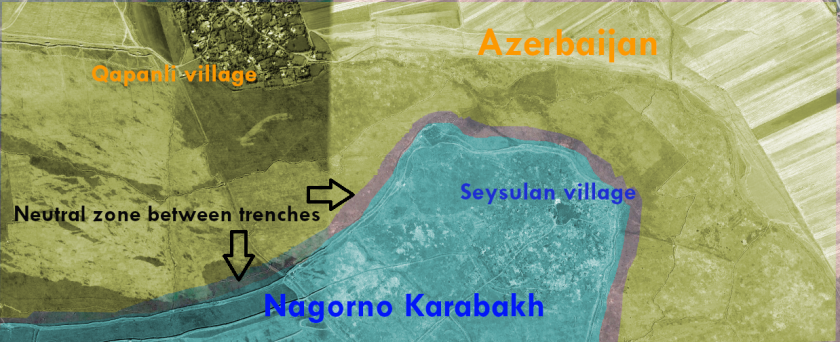 It is worth mentioning that the area surrounding Seysulan village saw heavy fighting during the 2016 Four-day War, with an initial artillery barriage from the Azeri side followed by an infantry advance with motorised units. According to the former Nagorno Karabakh head of intelligence, Arshavir Garamyan, fighting around the main trench system during the first 2 days of April in 2016 gave way to "28 Azeri losses and one armoured vehicle". This is the fifth OSCE ceasefire monitoring mission conducted thus far this year.
Non-official photos aerial photos of Armenian trenches