These past few days news media outlets from both the Armenian and Azeri sides have reported soldiers wounded due to border shootouts.
According to a Sputnik Armenia news report, Armenia's Defence spokesperson gave brief details on an incident that occurred on 13 August, involving an Armenian serviceman deployed in the northwestern province of Tavush. The serviceman, not named in the report was wounded as a result of Azeri fire. Additionally, two other Armenian media sources (1, 2)reported an incident in the Gegharkunik province, also bordering Azerbaijan. The latter two sources mentioned that the serviceman was 37-year-old Artak O. No further detail on the incidents is currently available, but both are apparently recovering from their wounds, which were not mentioned as life-threatening.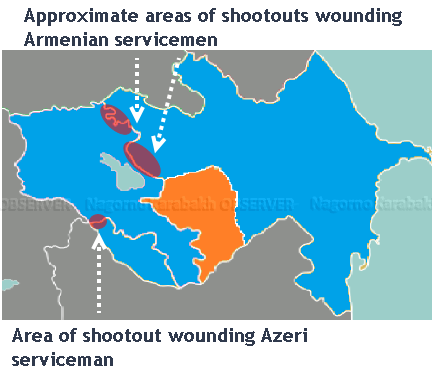 Moreover, sources from within Azerbaijan also wrote about an injured serviceman, Hasan Babayev, who according to two sources (1, 2), was wounded in the northwestern region of Sharur in Nakhichevan. This latest one is significant in that very few reports of injuries have been reported in this area. Azeri military outposts in this area have reportedly undergone major renovation work in recent times. Babayev was reportedly carrying out renovation work on a military installation when he was wounded.
A picture of the Hasan Babayev according to Azeri media outlet Yeni Sabah