Nagorno Karabakh Observer does not endorse, confirm nor deny the content of official publications and is not responsible for the nature of its content. 
Sources of information either in hyperlink or in parenthesis: e.g. (1, 2, 3)
All times are local times
Overview
The deadliest clashes since the 2016 April war broke out at around 13.45 hours on 12 July, clash erupted on the internationally recognised border between Armenia and Azerbaijan near the Azeri village of Aghdam, which lies between the Armenian villages of Movses and Chinari. During the next few days, the area of military operations extended to an area of approximately 40km between Berkaber and Chinari villages in Armenia based on available official information.
The clashes continued to be of different intensities in different areas, with the area between Aghdam, Azerbaijan and Movses, Armenia seeing most combat operations according to reports. Particularly, mountain ridge lying on the frontier called "Black Rock" (Azeri, Qaraqaya or Qaradaş; Armenian, Sev Kar), with a height of approximately 1000 metres overseeing villages on both sides, has been the main area of tension. During the clashes the use of small arms fire, mortars, artillery, armoured vehicles as well as loitering and reconnaissance unmanned aerial vehicles (UAV)was reported. The exact cause of the incident remains disputed between the two sides.
Attention was brought upon one particular Azeri military position, located metres within Armenia's internationally-recognised territory. Based on open source information, there are indications that an Azeri military position was overrun by Armenian troops; a non-official video circulating in Armenian news media was geolocated at a location (40°54'23.39″N, 45°31'38.69″E) known to be behind this military position 570 metres to the closest Armenian military position. Between 12-16 July, Armenian defence officials posted photos showing bodies of Azeri troops behind the mentioned military position (1, 2); Armenian officials did not comment on the news about overtaking a military position, not denying nor confirming the news.  On the contrary, the news was strongly refuted by Azeri media quoting defence spokesman Vaqif Dərgahlı, as well as a news report from 17 July from local Ictimai TV.
Map of Qaradash/Sev Kar heights and the military positions compared with borders
Map source: Maxar Technologies, Google, US Dept of State Geographer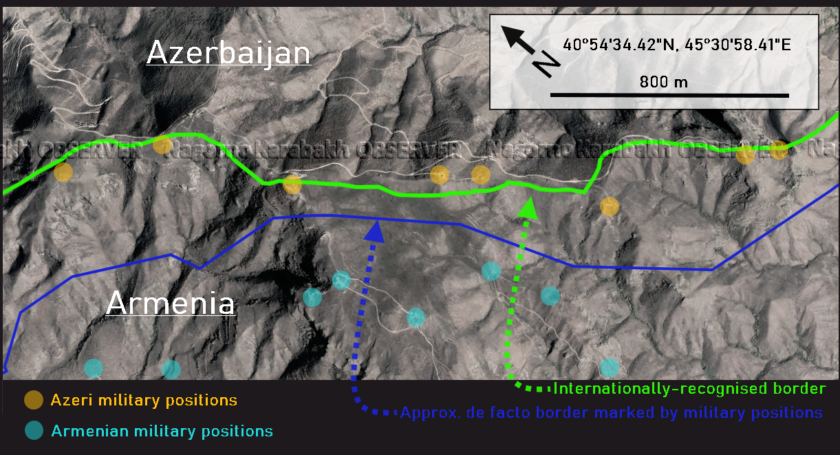 Reports of civilian areas being targeted – Military positions on both sides of the border have been targeted, there have also been reports of villages being targeted by both sides, referring to the villages of Chinari, Karmir Aghbyur, Berkber, Aygepar and the town of Berd in Armenia (1, 2) and Dondar Kushchu, Aghdam and Vahidli  in Azerbaijan. (1, 2)
Losses –  Azeri defence officials have so far conformed 12 fatalities (including a general and several officers) and a number of injured,  (1, 2, 3, 4, 5, 6, 7); Armenian defence officials have reported five killed and 35  injured on their side. (1, 2, 3, 4, 5, 6)
General map of the area of reported clashes based on official government sources at the time of writing
Map source: CNES/Airbus, Landsat/Copernicus, Google, US Dept of State Geographer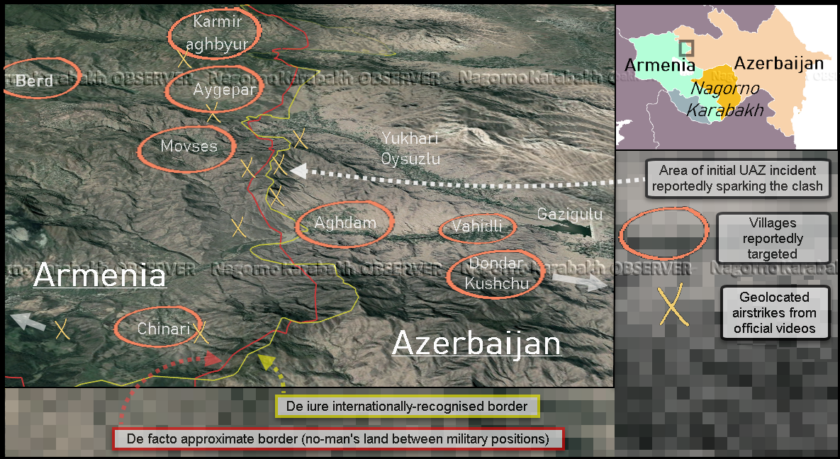 Photos of reported fallen Azeri soldiers behind a military position, presumably overtaken by Armenian troops, geolocated through photos provided by Armenian defence officials
Map source: Maxar Technologies, Google, US Dept of State Geographer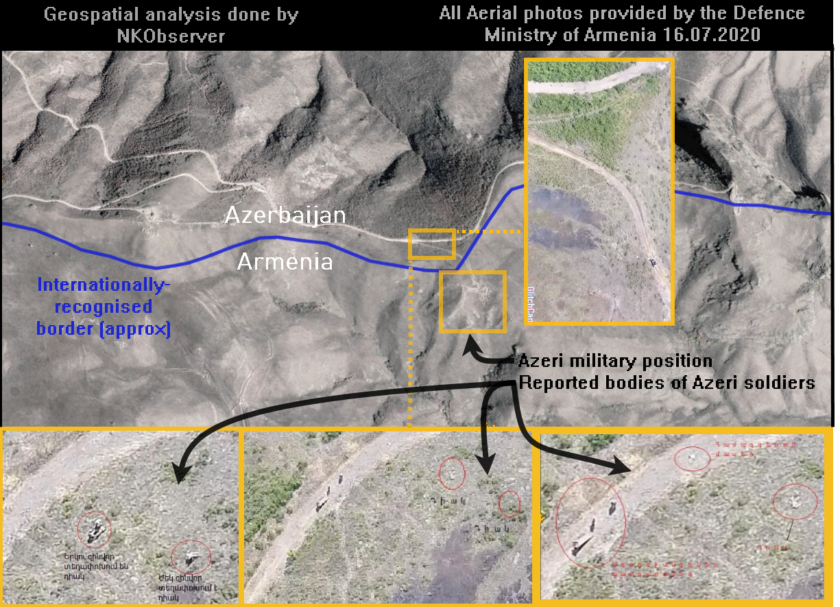 Official statements from Armenia's Defence Ministry
The first official news on the incident came from the spokeswoman of Armenia's Defence Ministry, who at around 18.00 hours local time reported that at 12.30 hours on 12 July, an Azeri military UAZ jeep had approached the Armenian border apparently trying to breach it and was fired upon. The occupants of the vehicle fled, and an hour later at 13.45 hours Azeri troops tried to capture an Armenian position aided by ground fire, including artillery (sic). The statement concluded that they "were suppressed" (sic) with no losses on the Armenian side at the time of occurrence.
12 July
At 23.00 hours on the same day, the defence spokeswoman stated that the Azeri side had resumed fire on in the same area using 82mm mortars and "a tank" (sic).
13 July
14 July
15 July 
During a press briefing, officials stated that around 20 Armenian soldiers are wounded at the time, 10 receiving medical attention, one in critical condition. Additionally, the villages of Chinari, Karmir Aghbyur, Aygepar, Berkaber, and Berd city were reportedly targeted by Azeri fire, with no injuries but only material damage. Around 10 UAVs were shot down by Armenian forces, including one Israeli-produced Hermes-900. During the night of 14-15 July, no large-calibre weapons (artillery) were used.
Officials announced that a total of 13 Azeri UAV's had been shot down since the begining of the clashes, 10 being loitering munitions and three reconnaissance.
16 July 
At 6.53 hours the Defence spokesperson stated that at 3.40 hours the military noticed an Azeri border incursion attempt at an unspecified location and repelled it, resulting in losses on the Azeri side. Additionally, starting 5.20 hours, the Azerbaijan started shelling Movses and Aygepar villages with D-30 122mm artillery, which was ongoing at the time of publication. This was the first significant ceasefire violation since midnight the night before.
17 July
Armenian defence officials announced that a brigade-sized group with armoured, motorised, artillery units will also participate alongside Russia major snap military drills organised by the latter involving around 150,000 troops in its Western and Southern Military Districts.
18 July
Armenian defence officials stated that the situation on the border with Azerbaijan was relatively calm since the previous night. However, the villages of Movses in Tavush, and Kndzorut and Zangakatun along the border with Nakhchevan came under irregular fire, no damage was reported.
De facto Nagorno Karabakh defence officials reported that at 06.38 hours today an Israeli-designed Azeri Orbiter-3 drone was shot down in the northeastern segment of line-of-contact.
20 July
Defence Minister, Davit Tonoyan, received Greek chargé des affairs in Yerevan, Dimitris Felopoulos, and defence attaché, Dimosthenis Simaiakis. The latter was awarded the "Military Co-operation Medal" by Tonoyan. The two sides discussed bilateral ties, including military cooperation with  "hopes of further planned future events" (sic). Also discussed were regional issues and situation on Armenia-Azerbaijan border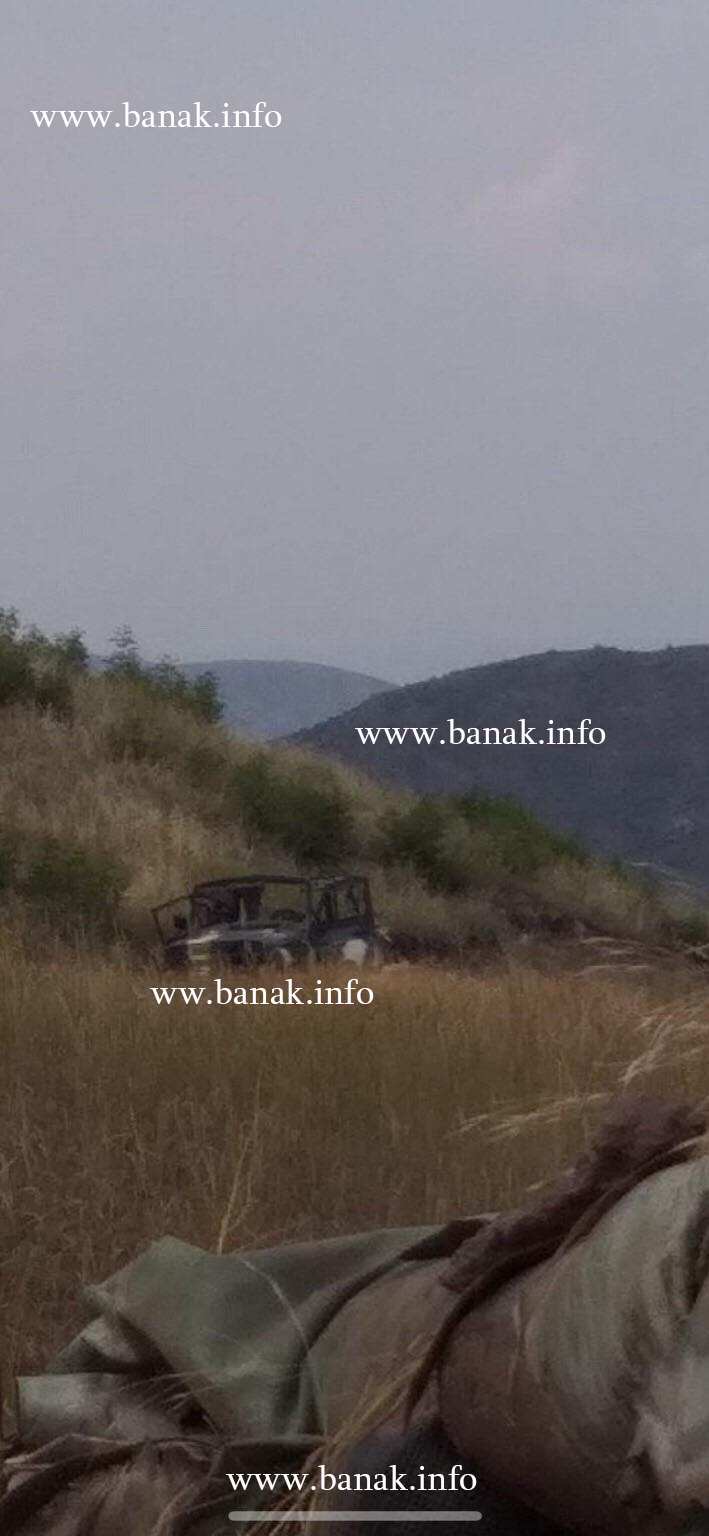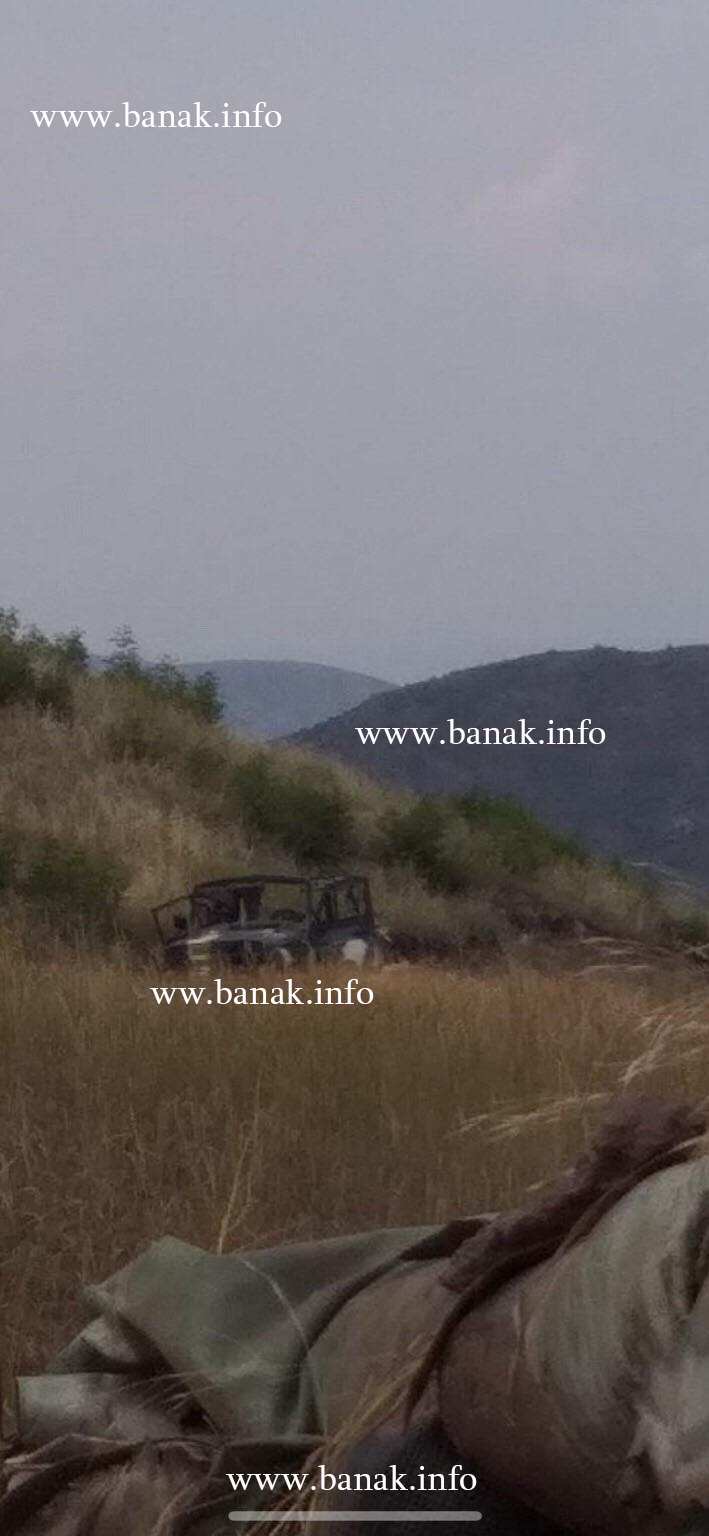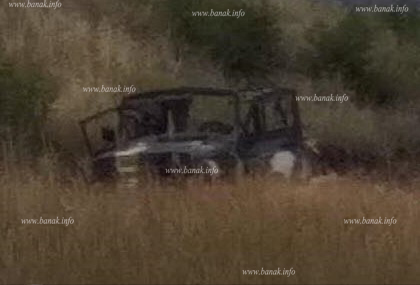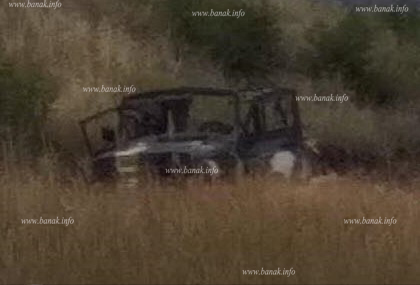 Video of Armenian military carrying out strikes on Azeri positions reportedly targeting civilian areas
Armenian troops shooting down an Israeli Elbit Hermes 900 UAV operated by Azerbaijan
Official footage showing Armenian artillery strikes on Azeri military targets during night operations between 13-14 July
Official statements from Azerbaijan's Defence Ministry
Azeri officials first commented on the incident through the country's Defence Ministry webpage, releasing news that at 16.08h local time (one hour ahead of Armenia) Armenian forces opened fire on their military positions, violating the ceasefire in Tovuz district with artillery. The statement highlighted that "both sides have losses" (sic) and that a firefight is currently underway with the situation under control. Azeri officials subsequently released a series of videos showing strikes on Armenian targets.
12 JULY
At 17.20 hours, Azeri officials stated that Armenian forces attempted to capture their positions with the use of artillery fire. Fire was opened on Armenian forces who "retreated with losses" (sic). The statement mentioned that two Azeri servicemen were killed and five wounded.
At 22.07 hours, mentioned one more serviceman killed, with a total of three at the time of writing. Names of the killed servicemen were mentioned as Vugar Sadigov, Elshad Mammadov and Khayyam Dashdemirov.
At approximately 9.00 hours local time, Azeri media outlet APA quoted defence officials stating that the Armenian side has resumed fire on their positions with the use of artillery as well. The brief concluded mentioning that the military is currently retaliating fire.
13 July
At 9.00, Azeri defence authorities posted a video showing a kamikaze UAV or missile exploding on an Armenian position just above the village of Movses in Armenia. The statement mentioned that artillery, mortars and tanks are involved in combat operations and have targeted Armenian military hardware and troops, highlighting that Armenia information on combat losses. Additionally, the statement mentioned the loss of a fourth Azeri serviceman, Rashad Mahmudov. The video nonetheless was refuted as fake by an Armenian media expert stating that the approach of the missile or UAV was not possible from that angle.
At 9.17 hours, officials also stated that Azeri positions were being targeted by heavy machine guns, sniper fire, grenade launchers, 60, 82 and 120mm mortars and other artillery means.
At 13.25 hours, Azerbaijan's president gave a press briefing in which he blamed Armenia for the recent escalation, based mainly on political reasons, no significant information on military operations was provided, besides stating that Azeri servicemen had initially died as a result of Armenia shelling their military position "for no reason."
After reports of the Armenian side overtaking Azeri military positions near a mountain peak known locally as Big Rock, Azeri defence officials reported to media that the news was misinformation and urged people to follow only official news as opposed to non-official social and news media.
At 20.59. Azeri defence officials posted a video in which they appear to be targeting Armenian military positions behind the border, including near the village of Aygepar, approx. 13 km from Aghdam, where the clashes started. (see video below)
14 July 
15 July 
At 15.02 hours, officials

 reported cross-border fire on Nakhchevan-Armenia

border on night of 14-15 July in Sharur, Babek and Ordubad regions, say they targeted Armenian military transport vehicle at an unspecified location (video available in link).
16 July 
At 7.58 hours, Azeri defence officials stated that Armenian units attacked their military positions. Additionally, the villages of Aghdam, Dondar Kushchu and Vahidli reportedly came under heavy machine-gun and mortar fire. At time time of writing combat operations are underway
Azerbaijan Deputy Defence Minister/Commander of Nakhichevan Army and Commander of Azeri Air Force met with Turkey's Defence Defence Minister, Chief of Staff and heads of armed forces branches.
17 July
18 July
Defence officials reported a lower number of ceasefire incidents since the previous day, 53 cases, down from 97. However, the report stated that Armenia used sniper and heavy machine gun fire along different segments of border, but Tovuz "relatively calm" (sic).
Defence Minister, Zakir Hasanov, held a telephone conversation with Russian counterpart, Sergei Shoigu, during which bilateral military ties were discussed among other things. Additionally, the statement stressed that Russia's snap military exercises announced on 17 July with the participation of Armenia are not tied to the border clashes.
20 July
Turkey's Defence Minister, Hulusi Akar, received for second time in four days the Azerbaijan deputy defence minister/Nakhchevan garrison commander Kerem Mustafayev, and Air Force head, Ramiz Tahirov.  An official statement highlighted "we are one and together with brother Azerbaijan." While the official statement made no reference to the word Armenia, it indirectly referred to the country by highlighting  aggression against Azerbaijan. Also present was Turkey's armed forces' chief-of-staff, Yaşar Güler, and deputy defence minister Muhsin Dere.
Azeri defence officials reporting on a strike near the Armenian village of Aygepar (13 July)
Video publish on 14 July, showing footage from previously published video the day prior from reported  on Armenian targets by the Azeri military 
Official statements from the International Community
Members of the international community also released statements expressing their opinions on the clashes. All statements besides those issued by Turkish authorities were neutral in nature.
Collective Security Treaty Organisation
14 July – The Collective Security Treaty Organisation (CSTO) issued a statement calling for "an immediate restoration of the ceasefire regime in the CSTO responsibility zone", making a direct reference to the organisation's obligations towards a member state. The statement also mentioned  "the CSTO Council of Foreign Ministers in their statements have repeatedly called on the Parties to seek settlement of conflict situations only through peaceful negotiations and to refrain from acts of provocation in order to prevent escalation of tension."
Cyprus
15 July the Foreign Ministry of Cyprus issued a statement, mentioning that foreign minister Christodoulides had a telephone conversation with his Armenian counterpart. The statement stressed the former's "concern about this development, condemned the ceasefire violation by Azerbaijan and called for restraint of the parties to de-escalate the tension in the region."
European Union
The EU issued a statement calling on "both sides to stop the armed confrontation, refrain from action and rhetoric that provoke tension…"
Georgia
13 July – Georgia's President issued a statement, neutral in nature, mentioning, among other things, "The peace and security of our region is important for the future development and prosperity of Georgia, as well as our friendly and partner states – Azerbaijan and Armenia."
GUAM: Organisation for Democracy and Economic Development
15 July – The organisation posted a statement of Azerbaijan's Foreign Ministry on its official webpage, among other things, harshly criticising Armenia for the clashes.
15 July – The official Twitter account of Guam posted "Secretariat expresses deep condolences to the families of the perished Azerbaijani militaries, as well as solidarity with the people of the Republic of Azerbaijan."
Moldova
14 July – Moldova's Foreign Ministry issued a statement in support of Azerbaijan, concluding in "The Republic of Moldova advocates for the peaceful settlement of the conflict situation based on respect for the sovereignty and territorial integrity of the Republic of Azerbaijan within its internationally recognised borders."
Organisation for Security and Co-operation in Europe
The OSCE Minsk Group co-Chairs issued a joint statement condemning the ceasefire violations and calling on both sides to take "all necessary measures" to prevent escalation.
Russia
Turkey
The Ukraine
13 July – The Ukraine's Foreign Ministry issued a statement in support of Azerbaijan, expressing concern for the clashes, referencing the need to resolve the conflict according to United Nations' resolutions 822, 853, 874 and 884, and concluded upholding principle for the territorial integrity of Azerbaijan.
United Kingdom
14 July – The UK Foreign Office issued a statement expressing its concern for the ceasefire violations on the international border and called on both sides to respect a ceasefire, stressing need for restraint from tension-causing rhetoric, reiterating their support for the OSCE Minsk Group process.
United States 
July 13 – The United States State Department issued a statement expressing concern for the ongoing clashes and the need to adhere to a peaceful settlement of the Nagorno-Karabakh conflict and the need to resume ceasefire monitoring missions as soon as conditions allow it.
Besides the limited official reports provided by both sides, a number of non-official sources, including social media users:
Reported footage an initial shootout by Azeri media agency Xural TV showing showing the use of an APC, mortar and heavy machine guns
Significance of these latest clashes
Excluding the 2016 April clashes that took place on the line-of-contact (LOC) between de facto Nagorno Karabakh and Azerbaijan, not on the Armenia-Azerbaijan border, this appears to biggest clash if considering it as one single operation since between Armenia and Azerbaijan when taking into consideration the duration, military means used and losses reported, since the 1994 when Armenia, Azerbaijan and Nagorno Karabakh signed a trilateral ceasefire agreement.
Clashes on the Armenia-Azerbaijan border are known to periodically occur. Major clashes are known to have taken place in April 1997, (1, 2) with an unknown number of losses.  In September of 2015, three civilians were reportedly killed along the Armenian-Azeri broder.  More recently between January and May this year, at least 20 reports of border skirmishes were mentioned by both sides. However, no significant incidents were reported near the area currently affected by the clashes, all incidents according to official reports took place 30 km north between the villages of Berkaber, Abbasbeyli, Kushchu Ayrum, Koti and other nearby villages.
The last major clash previous to this is considered the February 2017 incident that took place on the Azerbaijan-Nagorno Karabakh LOC, when five Azeri soldiers were killed on the line-of-contact between de facto Nagorno Karabakh and Azerbaijan during a reported covert raid on an Armenian position according to Karabakhi officials, while Azeri officials stressed that it was a ceasefire violation by Karabakhi forces.
Annex
Official videos provided by Azerbaijan's Defence Ministry (1, 2, 3, 4, 5, 6, 7, 8, 9, 10, 11, 12, 13, 14, 15, 16)
Official videos provided by Armenia's Defence Ministry (1, 2, 3, 4, 5, 6)