The first official meeting: 13 August 2020
On 13 August, Turkish Defence Minister Hulusi Akar along with the commanders of Turkey's military branches met with Azeri President Ilham Aliyev and Defence Minister Zakir Hasanov during the concluding events of joint military exercises, but one individual caught our attention, Turkish Air Force Major General Göksel Kahya, whose service was extended for one year in August of this year (he was set to retire).
Official photo of the 13 August meeting between high-ranking Turkish defence officials with Azeri President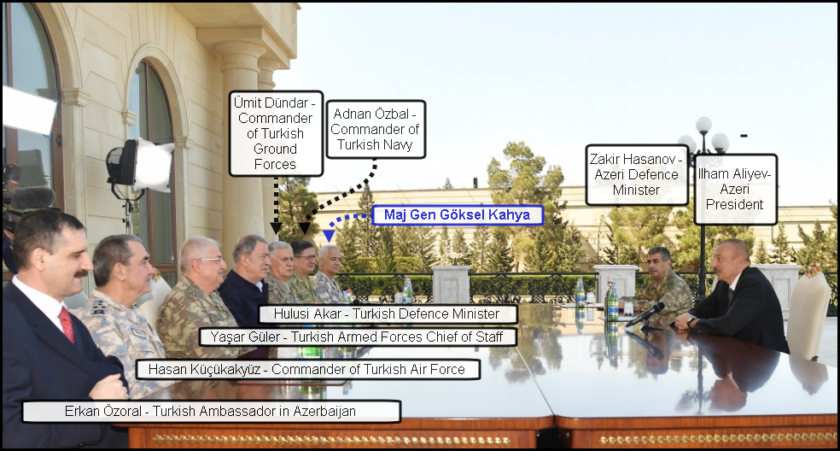 Gen Kahya is Turkey's Defence Ministry's Management Services General Manager according to the latest news. Kahya was known for heading a team of Turkish intel officiers in Libya before being allegedly detained by General Haftar's forces of the Libyan National Army's. Previously, Kahya held the position of Commander at the 1st Air Supply Maintenance Center at Eskishehir, Turkey, known for renovating, refitting and modernising aircraft. 
A 2017 photo of Kahya with other high-ranking Turkish Air Force officials

In Libya Kahya's team managed a global security and operations centre (GSOC), in practical terms, an operation room for drones to support Government of National Accord (GNA) troops. His presence alongside the highest-level Turkish military officials in Azerbaijan suggests the possible creation of a similar GSOC or operations centre for drone warefare with the Azeri military. The latter has stepped up efforts to develop the unmanned aerial vehicle (UAV) field, purchasing and producing Israeli-designed UAVs and in June of this year appeared to be seeking to purchase Turkish drones. 
Such an installation in Azerbaijan would possibly come in the form of embedded Turkish specialists operating UAV's, providing intel to Azeri military, a type of outsourcing, as done in Libya. But as of right now, neither Baku nor Ankara have officially commented on this possibility. 
Second official meeting: 8 November 2020
On 8 November, a Turkish delegation visited Azerbaijan as reports of the latter taking control of the strategic city of Shush in Nagorno Karabakh were announced. The delegation was headed by Turkish Foreign and Defence Ministers, accompanied by the Commander of Turkey's ground forces, and among them, Air Force General Göksel Kahya.
Official photo of the 8 November meeting provided by Azeri defence officials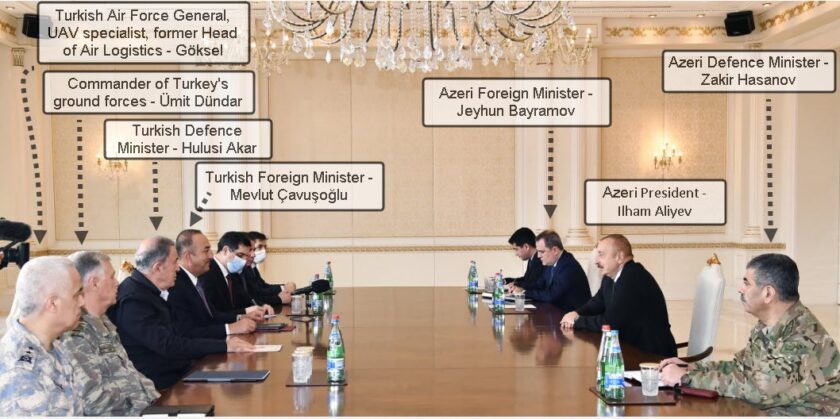 Official notifications from Turkey's Foreign Ministry, Azerbaijan's Defence Ministry and Presidencial office were mainly political in nature, highlighting the brotherly [sic] relations betwen the two countries, Aliyev mentioned the moral and political support from Erdogan during this past month. Turkey's Foreign Minister Çavuşoğlu congratulated Aliyev on the news about Shusha, while Defence Minister Akar stated that "Turkey will support Azerbaijan in this fight until the end."
Besides the general political aspects of what was discussed, no military-related information from the meeting was made public.
The third official (virtual) meeting: 11 November 2020
On 11 November, just two days after the ceasefire agreement ending military operations in Nagorno Karabakh, Turkey's Defence Minister Akar signed a memorandum of understanding during a video conference call with Russian counterpart Sergei Shoigu to form a joint monitoring centre for the peacekeeping mission.
Identification of Özsert and Kahya during the 11 November video conference
Present in the videocall was Gen Kahya,  next to him, Army Maj Gen Irfan Özsert, who himself has an interesting background. Not noticed earlier, but spotted in this videoconference, Özsert, from Gaziantep is a Major General of Turkey's Ground Forces. He studied at Turkish Military Academy in Ankara in the 1980s, served as a defence attaché in Kuwait, U.S. and Belgium, and during 2016 July coup he participated in combating traitors [sic]. He is known to have held a post in Turkish intelligence (MIT), and was previously in charge of Gaziantep's military district. He also played a major role in Bayraktar UAV operations for the GNA during the Libyan civil war. 
The fourth official meeting: 31 December 2020
On 31 December, a Turkish delegation headed by Defence Minister Hulusi Akar, accompanied the Chief of Staff of Turkey's Armed Forces, the Army and Navy Commanders, former Turkish ambassador to Azerbaijan and Gen Kahya took place in Baku. The Turkish delegation officially met with Azerbaijan's President Aliyev and Defence Minister Gen Hasanov. During the meeting, official statements from both sides reflected mainly general political positions, with no detailed mention of military-technical matter.
The official statement on the event from Turkey's Defence Ministry quoted Akar during the event, who stated,  "it is important to establish this line [corridor] between Nakhchivan and Zengen after the establishment of this common center [referring to the joint Russian-Turkish monitoring centre to be set up in Aghdam] as soon as possible for this victory to be crowned." Akar continued highlighting the importance of Turkey, Nakhichevan and Azerbaijan being physically connected through the mentioned corridor, Syunik province in Armenia (known as Zangezur by Azeris).
Worth mentioning however, is that while the head of Turkey's Army and Navy, as well as the Chief of Staff were present, the Commander of Turkey's Air Force (present on 13 August) was absent, in his place, one can assume was Gen Kahya, suggesting further evidence of Turkey's direct military intervention in Azerbaijan. Curiosuly, official footage of the meeting also showed the absense of the Chief of Staff of Azerbaijan's Armed Forces, Nejmeddin Sadikov, whose whereabouts since the war broke out are unknown. Information about Sadikov go from rumours about him being arrested to him being sacked, or even that he remains in his position.
Official meeting between Turkish and Azeri defence officials on 31 December 2020. Army and Navy commanders present, but Air Force commander absent.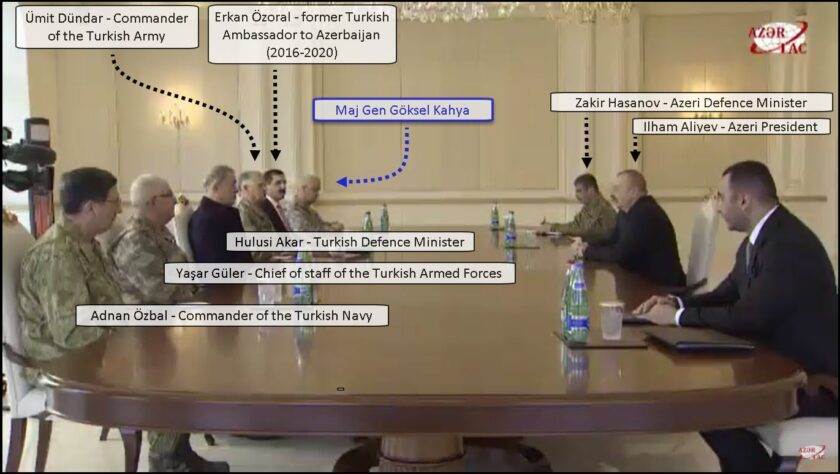 Conclusion
Given the following:
The presence of these individuals who hold no significant political position in Turkey's government nor necessairly stand out among the country's Armed Forces,
The fact that both Kahya and Özsert have been linked with UAV and intelligence operations in Libya, where Turkish UAVs have been deployed,
The absense of them in previous official notifications and their presence only during the preparation and culmination of this latest war,
our finding suggests that Turkey was, highly likely than not,  directly involved in the Nagorno Karabakh war operating and/or coordinating Turkish-produced UAVs on behalf of the Azeri military, as Armenian and Karabakhi anti-air defence systems eventually developed some capabilities allowing them to counter Israeli and locally-produced UAVs. 
In developments following the abovementioned, on 18 December, Gen Kahya was spotted accompanying Turkey's Defence and Foreign ministers during an official visit to the Ukraine received by Ukranian Prime Minister Denis Smigal . Most likely to form a UAV operating centre. A month prior to this meeting, a delegation from Turkey's Air Force headed by Commander, Gen Hasan Kuçukakyüz, visited the Ukraine to present TB2 model Bayraktars.
Official meeting between the Turkish and Ukrainian defence delegations on 18 December 2020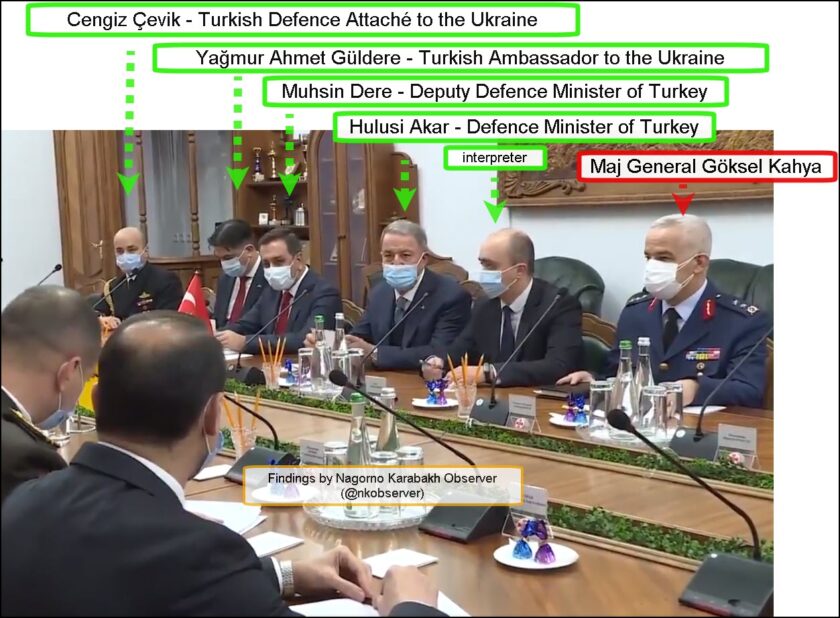 Also available in our Twitter posts
13 August meeting: https://twitter.com/NKobserver/status/1294888917343145990?s=20
8 November meeting: https://twitter.com/NKobserver/status/1325704268968456193?s=20
11 November meeting: https://twitter.com/NKobserver/status/1326664196872790016?s=20
18 November meeting: https://twitter.com/NKobserver/status/1340129773306056704?s=20