There is much talk about minefields and the need for the parties in the Nagorno Karabakh conflict to pass on maps of minefields to the other side in a goodwill gesture. Here's our overview on that matter. 
Quite contrary to popular beliefs, minefield maps as such many times don't exist. Many mines were laid during the first Karabakh war by Armenians and Azeris in the midst of battle, with some territories changing sides several times, during which, each laid mines where they could (in front of positions, roads, etc.) Many anti-tank and anti-personnel mine fields, particularly in Soviet-era Nagorno Karabakh were cleared by The HALO Trust, many mines remain along the NK and Azeri side of the 1994 line-of-contact which only now are starting to be cleared. For example, around 500 minefields have been cleared by The HALO Trust since 2000, many in Soviet-era Nagorno Karabakh. Actual minefields still remain, but it is assumed that there are not much remaining.
Map provided by The HALO Trust showing Soviet-era Nagorno Karabakh before (left) and after (right) the 2020 war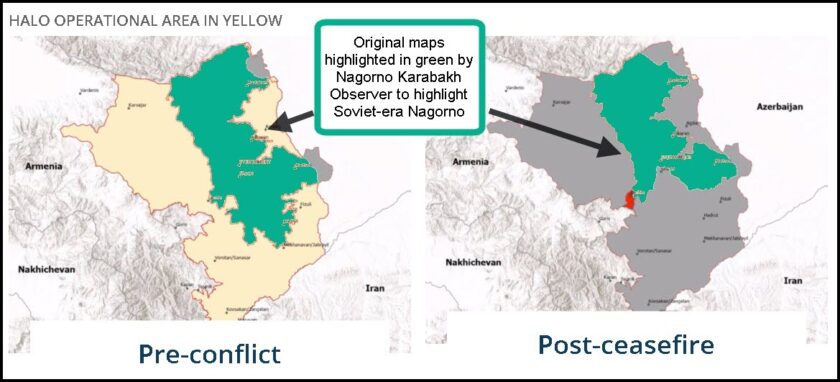 What remain now mainly due to this latest war in 2020 are unexploded munitions (UXOs)(i.e. grad rockets, cluster munitions, chemical munitions (white phosphorus), RPGs, mortars, etc.). Not so much minefields, but UXOs are what are being cleared now. These UXOs are being cleared by

Russia

's Defence Ministry
peacekeepers and The HALO Trust
in Armenian-controlled

Nagorno Karabakh

, while

Turkey

and

Azerbaijan

are doing the same in Azeri-controlled areas. 
Periodic statistics published by Russia's Defence Ministry on ongoing UXO and mineclearing work in Nagorno Karabakh
UPDATE – #Russia Defence Ministry – Since demining operations started in #NagornoKarabakh on 23 Nov. 2020, 1690 hectares of land, 528 km of roads, 1613 buildings have been cleared of unexploded ordnance (UXO), 25,237 UXO's found and destroyed. (1)

1.https://t.co/7zdyiWc7I5 https://t.co/H30Drr0Ptg

— Nagorno Karabakh Observer (@NKobserver) March 18, 2021
The HALO Trust video from 28 November 2020 shown an assessment of UXOs in Nagorno Karabakh after the war
Additionally, actual demining work is being done by Turkey and Azerbaijan along areas of the 1994 line-of-contact now fully under Azeri control (Aghdam, Fizuli, Kelbajar). This does not necessairly require maps to find mined areas, as mines are known to be present in neutral areas between the trenchlines.
Turkish EOD experts testing out mine clearing vehicles in Azerbaijan (left) and a contingent of Turkish EOD experts awaiting to be deployed to Azerbaijan (right)

Some mines and UXOs also remain in areas outside of Soviet-era Nagorno Karabakh, in areas bordering Armenia, Azerbaijan's newly acquired Lachin, Kelbajar, Gubadli and Zangilan regions, where The HALO Trust's work is thought to have been more limited due to political and donar-related issues. 
Given the above-mentioned, one can conclude that major minefields are few, and exist mainly along the 1994 line-of-contact, besides some minor mine-contaminated areas in Kelbajar, Gubadli, Jebrayil and Zangilan, where their approximate area is relatively easy to locate. Major work is needed and is being done to clean UXO's, disseminated throughout Karabakh and it's previously-controlled territories.