On 12 August 2021, Turkey's Defence Ministry tweeted photos of yearly Caucasus Eagle 2021 (Tr. Kavkaz Kartalı-21) military drills in which the special forces of Turkey, Georgia, Azerbaijan and Nakhichevan (separately mentioned from Azerbaijan) took part. The exercises were aimed at boosting cooperation and coordination between their forces. The official post made particular mention of Nakhichevan's special forces, despite the latter forming part of Azerbaijan.
📍Özel Kuvvetler Komutanlığı/ANKARA

Dostluk, iş birliği ve koordinasyonu geliştirmek, karşılıklı bilgi, tecrübe paylaşımında bulunmak amacıyla Türkiye, Gürcistan, Nahçıvan ve Azerbaycan Özel Kuvvetlerinin katıldığı "Kafkas Kartalı-21 Tatbikatı" gerçekleştirildi. pic.twitter.com/lcKI4VcxaA

— T.C. Millî Savunma Bakanlığı (@tcsavunma) August 12, 2021
We have geolocated the exact area of the military drills at Turkey's Special Forces (the famous Bordeaux Berets) headquarters complex and training centre near Gölbaşı, just south of Ankara.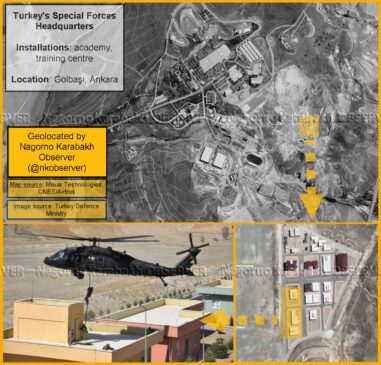 Based off of our Twitter post below:
We have geolocated the exact area of the military drills (see retweet below) that #Georgia, #Azerbaijan and #Turkey are participating in: it is at Turkey's Special Forces (the famous Bordeaux Berets) HQ and training centre complex near Gölbaşı, just south of Ankara. #military https://t.co/8LgxDokuvm pic.twitter.com/tqX3hzWOKG

— Nagorno Karabakh Observer (@NKobserver) August 13, 2021