Since the end of the second Nagorno Karabakh war in 2020, some areas previously under de facto Nagorno Karabakh control were either transferred to or militarily gained by Azerbaijan. Azeri troops quickly established themselves along the new border with Armenia, and in some instances entering into Armenian territory and setting up military positions. One thing that has puzzled many experts is the reason as to why Armenia did not secure its new borders with Azerbaijan, where in some areas Azeri troops were reportedly able to simply walk across unguarded areas and set up camp within Armenian territory (i.e. near Kut and Verin Shorzha villages). While the latter question remains subject of speculation, the reasons why some areas along the new Armenian-Azeri border have experienced major of tension after the 2020 war are measurable through open source analysis.
Main areas of tension along the new Armenian-Azeri border after the 2020 Karabakh war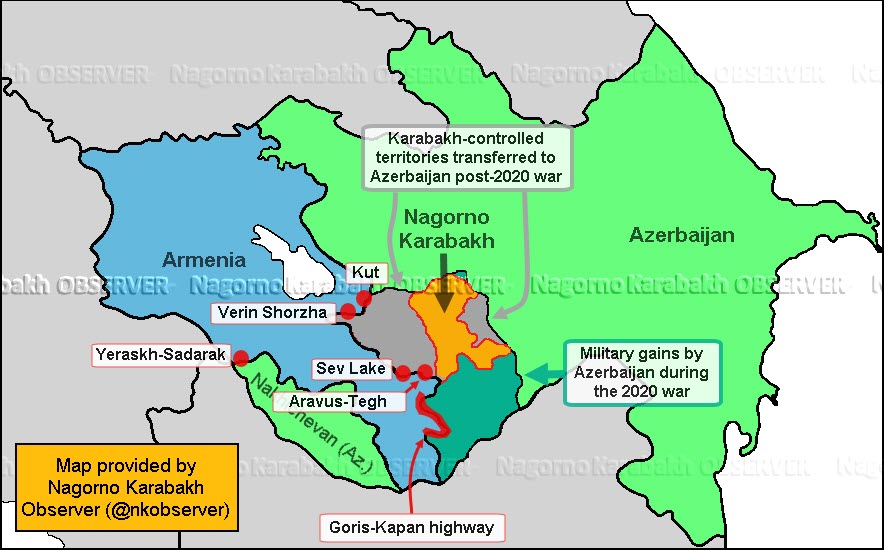 Judging by official reports from Armenian and Azeri sources, the main areas of tension along the new border are the following:
Yeraskh-Sadarak border segment between Armenia and Nakhichevan, Azerbaijan, near main north-south highway in Armenia
Sev lake
Segments of the Kapan-Goris road (e.g. Davit Bek and Shurnukh villages)
Verin Shorzha village
Kut village
Aravus-Tegh villages
The strategic importance of the Yeraskh-Sadarak and Kapan-Goris roads are clear,  they are all areas where Armenia's main north-south highway to Karabakh and Iran either pass through new Azeri-controlled territory (Kapan-Goris) or come close (i.e. Yeraskh), and Sev lake's importance is because of it being a major body of fresh water near the city of Goris and its surrounding villages.
At a quick glance, the importance of the three villages of Kut, Verin Shorzha and Aravus appears doubtful. There are at least 30 Armenian villages near new areas controlled by Azeri forces along the border with Armenia. While some of those such as Davit Bek, Shurnukh, Ditsmayri have received military-related coverage since the 2020 war, Kut, Verin Shorzha and Aravus villages are the most repeated in official reports.  A thorough analysis reveals that these three small villages appear to have something many others do not: rich mineral mines.
All three villages, Verin Shorzha, Kut and Aravus  are located near important mineral deposits such as gold, copper, silver and molybdenum.  An analysis into the matter yielded the following results:
Verin Shorzha- high-yield, almost untouched gold mine
Verin Shorzha has seen numerous incidents of clashes including at least one Armenian soldier killed earlier in May of this year. The village lies 8 km northwest from a 307-hectare gold mine on top of what Armenian's call Tsarasar (Arm. tree mountain). The mine was surveyed in Soviet times, but work only apparently started in 2015 after several geological surveys over the years. The actual amount of gold in the mine remains unknown, but Soviet surveys pointed to 3-10 grams per tonne. According to a major Japanese mining firm, Sumitomo Metal Mining, the average grade of major gold mines in the world is around 5 grams per tonne. Another example, the Way Linggo mine in Indonesia, a major mining project by international standards, yielded around 7.3 grams per tonne in 2019. Judging by the latter two examples, the Verin Shorzha mine is very lucrative, especially because it is an open pit mine with lower extraction costs. While the exact amount of gold deposits at Verin Shorzha remain unknown, the almost untouched mine at Verin Shorzha is extremely profitable if Soviet surveys are true.
Overall map of the Tsarasar mine complex and its location near Verin Shorzha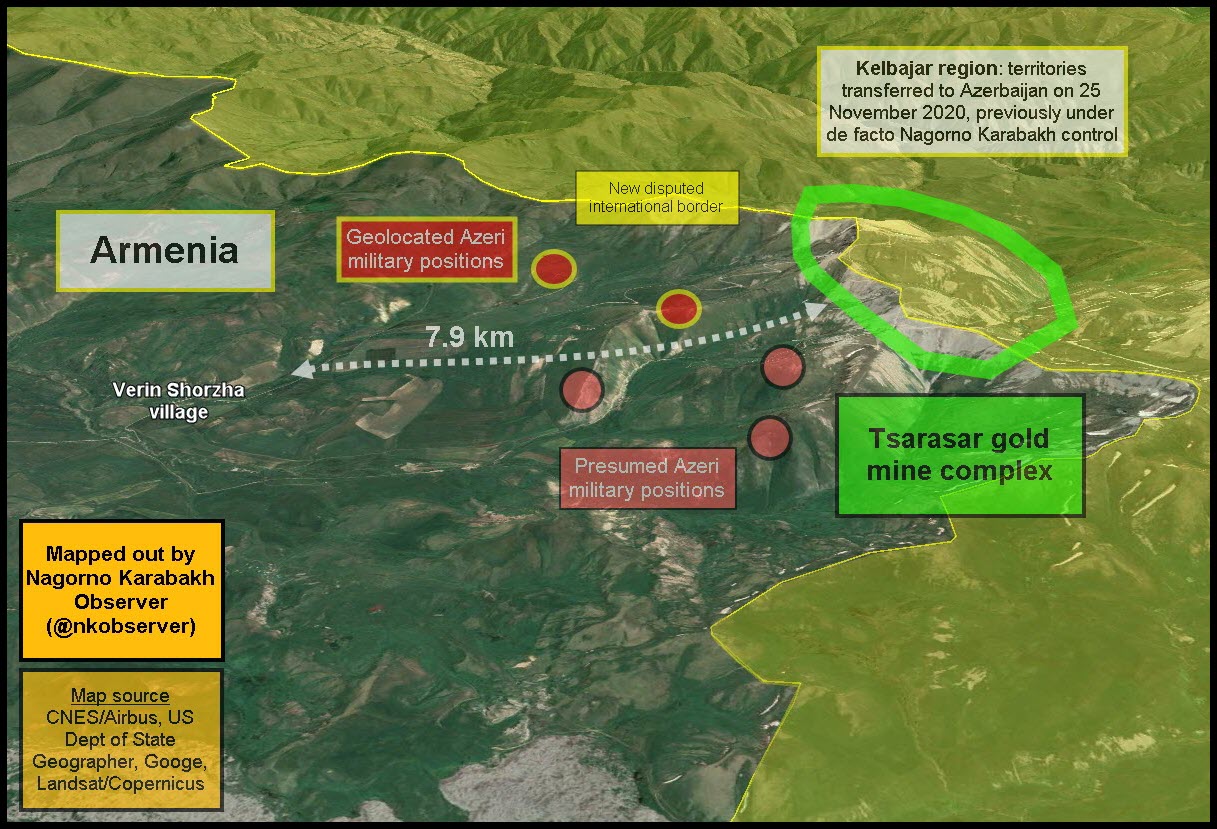 Kut village –  the biggest gold mine in the Caucasus
Kut village lies 5 kilometres from new positions within Armenia proper taken up by Azeri forces in Kelbajar region, ceded to Azerbaijan after the 2020 war. It also lies the same distance from the biggest gold mine complex in the Caucasus exploited by Armenia up until the end of 2020, after which, 75% of the mine was transferred to Azeri control. Initial mining operations at Sotk (or Zod by some sources) started in 1976 during the Soviet era, mining operations continued on a lower scale until the mid-2000's and were transferred to Russian mining firm GeoProMining through a 16-year licence (2012-2028), who brought 22 new vehicles (tractors, excavators, loaders, lorries, etc.). The Russian firm reinvested in the complex to make mining more sustainable.
The mine as of 2019 employed 756 workers, the biggest employer in the Gegarkunik region. According to 2011 estimates, the mine had 135 tonnes of gold deposits, 175 tonnes of silver and 31,000 tonnes of other metal ore deposits.  The mine's yield according to 2011 estimates was around 4.3 grams of gold per tonne, subsequently decreased to between 3.2-3.6 grams per tonne in 2019. With the area transferred to Azerbaijan after the 2020 war, a new company will take over the mine, Anglo-Asian Mining.
According to the UK-based Azeri mining company Anglo-Asian Mining, who operates mines throughout Azerbaijan, the company is set to take over mining operations at the Zod mine once authorities in Baku notify the company of the cessation of hostilities and secure safe access to the district. Subsequently, the new company will be granted a licence to explore the area for 5 years and operate the mine for 15 years, with two five-year extensions.
Given the information mentioned above, one can conclude that the mine just a few kilometres from Kut village is strategically very important. Considering that it is an open pit mine with lower operational costs compared to underground mines, the concentration of gold in this mine makes it very profitable. Additionally, it is worth nothing that this mine lies in the middle of the second highway connecting Karabakh and Armenia, inaugurated in 2017, giving it yet more strategic importance.
Overall map of the Sotk gold mine complex and its location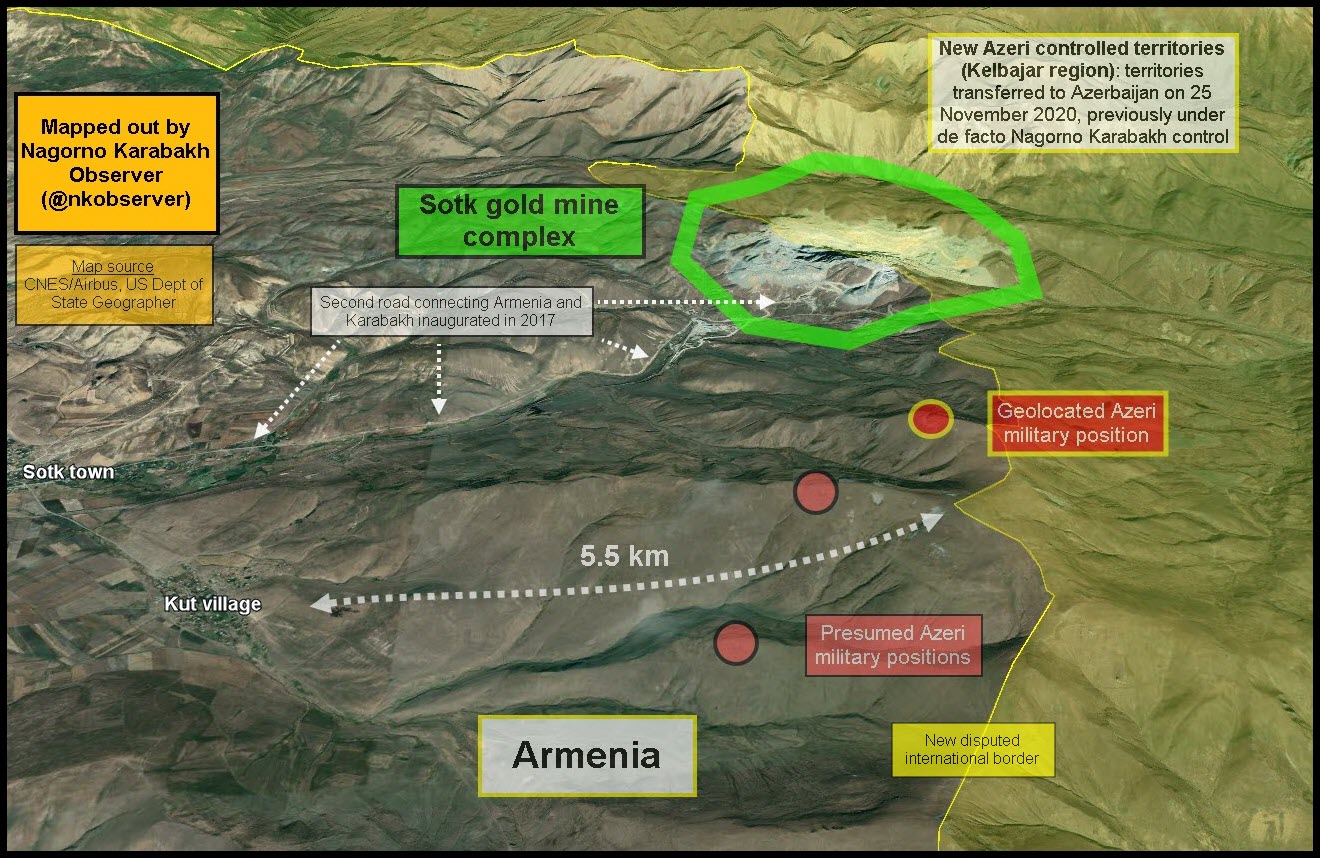 Aravus village – copper, gold and molybdenum deposits 
The villages of Aravus and Tegh lie less than 1 km from each other and are the last villages before entering Karabakh from Armenia. Areas just 500 metres from Aravus, previously under Nagorno Karabakh control, were transferred to Azerbaijan. Subsequently, some of the village's grazing grounds and cultivating lands are now inaccessible for villagers. Azeri troops were quick to set up military positions overlooking the villages just after the 2020 war. According to Armenian media, the village mayor reported that 13 military positions were set up by the Azeris surrounding the village. Very little open-source information exists about the geological aspects of the area, nonetheless, an Armenian government report from 2011 confirms that in 2008 a local firm, Berm Metals, was granted a licence for geological surveys in the area, thought to have copper, gold and molybdenum deposits just east of Aravus village.
Mining activity started near Aravus village between 2010-2016 (left) and recent imagery from 2019 (right)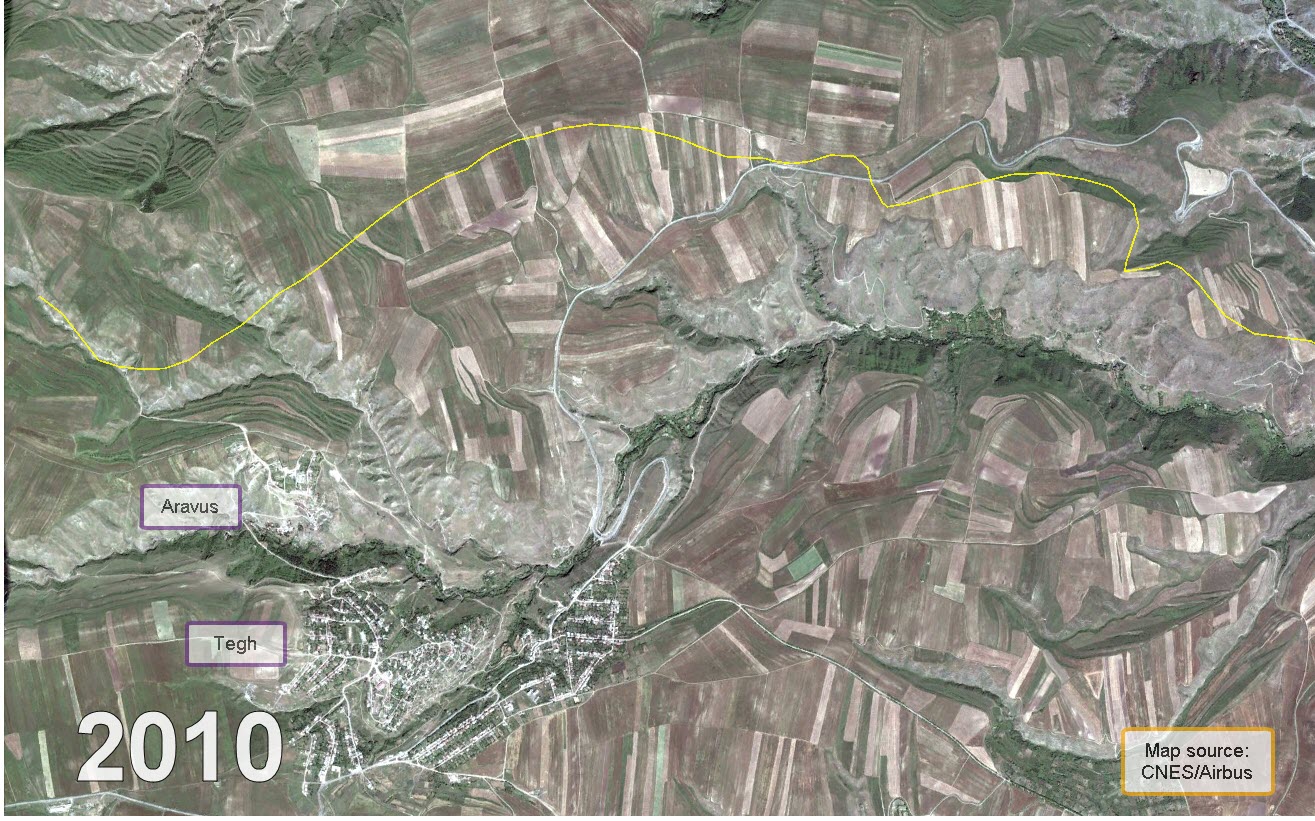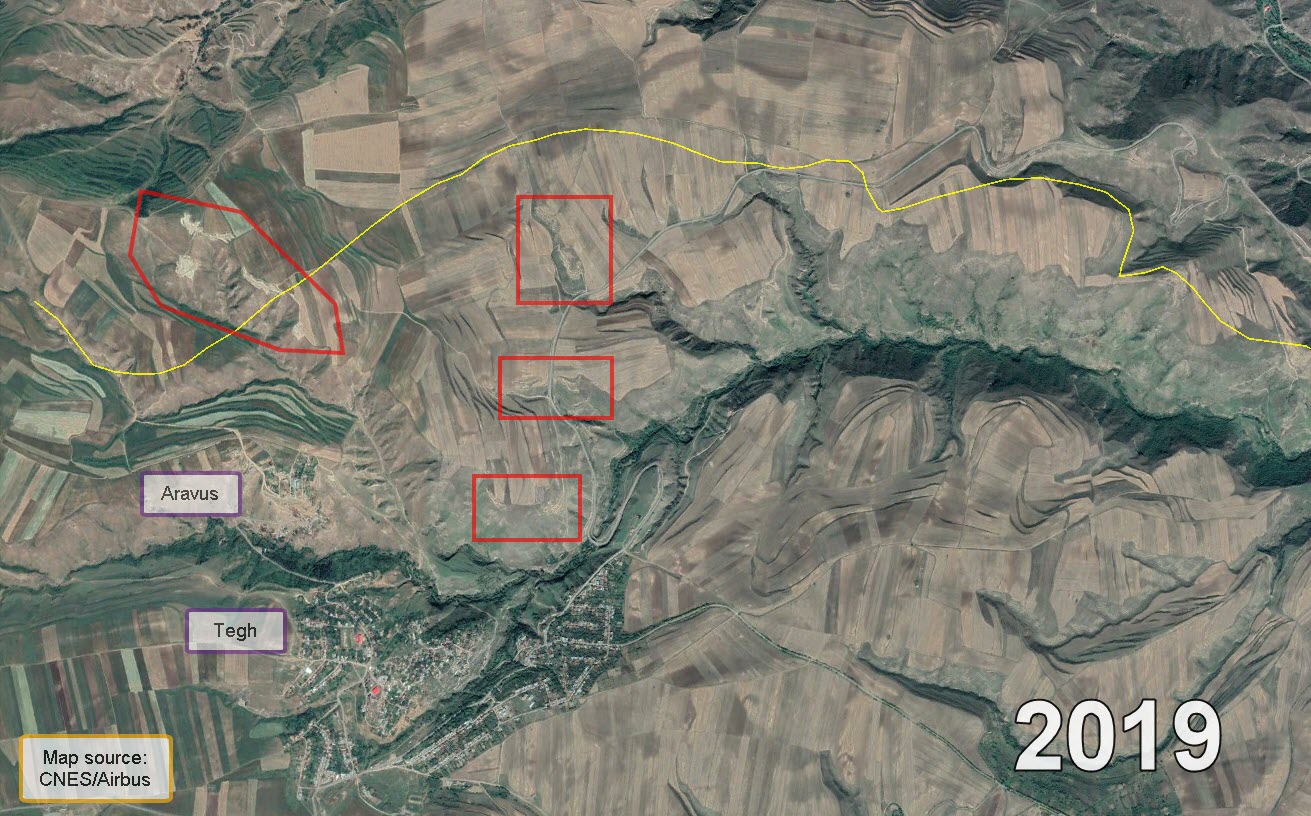 The second source, another Armenian government report from 2007, mentioned that the area near Aravus had gold and other mineral deposits, but no specific information about quantities, exact locations or mining activity per se. Satellite imagery in the area shows what appears to be mining activity started between 2010-2016, acting as further proof of of mine deposits in the area. Terrain around the satellite imagery of the presumed mines are similar to other areas in the region known to have confirmed mining activity (e.g. the Sotk mine near Kut village, or the Tsarasar mine near Verin Shorzha), as such, it is more likely than not that the areas north and east of Aravus and Tegh villages indeed have mine deposits and were being mined to some extent.
Overall map of the Aravus mine complex and its location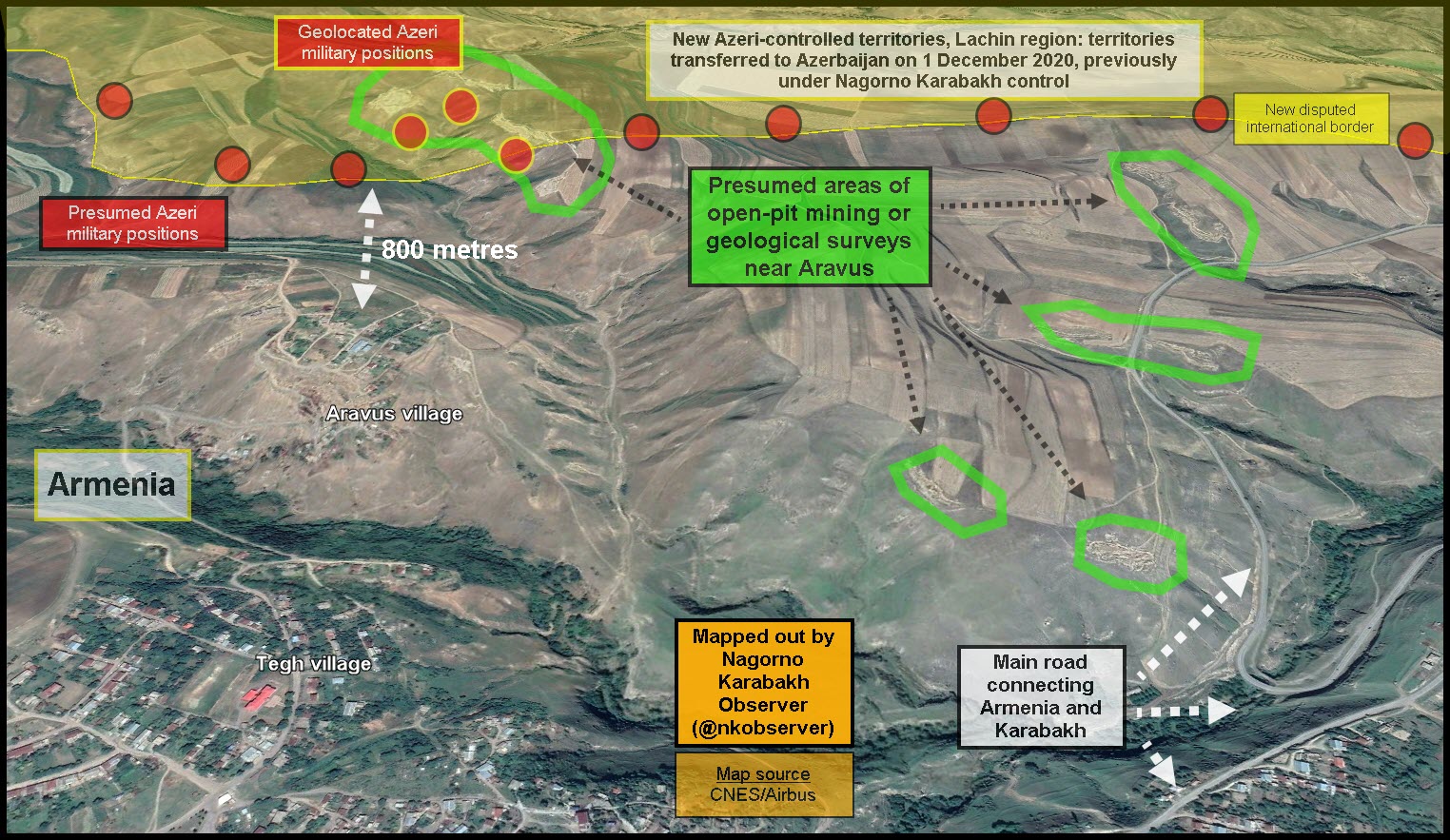 Another possible border change – the Vejnali mine
With Azeri troops having advanced to secure strategic positions near the villages of Kut, Aravus and Verin Shorzha given the importance of mine deposits, there remains another area with little information that has possibly seen a similar scenario. The denominated Vejnali mine, on the southern segment of the new Armenian-Azeri border 4 km from the border with Iran has possibly seen Azeri troops settling atop the 1,500-metre-high  mountain heights to secure it. News about the mine coming under Azeri control surfaced during last year's war in Karabakh when the area was overrun by Azeri troops. Until then, the mine in Karabakh is speculated to have been operating with the participation of members of Swiss watchmaker Franck Muller Group.  The mine now is set to be exploited by Ango-Asian Mining.
After the 2020 war, Anglo-Asian  Mining stated "The region has been secured by the Government of Azerbaijan and Anglo Asian is determining how to best access the area to evaluate its resources and infrastructure." Currently, there is not enough information to confirm whether the mine is operating at the time of writing . Nonetheless, due to the geographic location of the mine, securing it requires the control of territory within Armenia proper, as the mine is divided by the internationally-recognised border. Almost no information about this area of Armenia exists possibly due to being uninhabited, however, given the 3 examples of Kut, Aravus and Verin Shorzha, it is highly possible that Azeri troops are located within Armenia proper to secure the area around the mine for future development and operation.
Overall map of the Vejnali mine complex and its location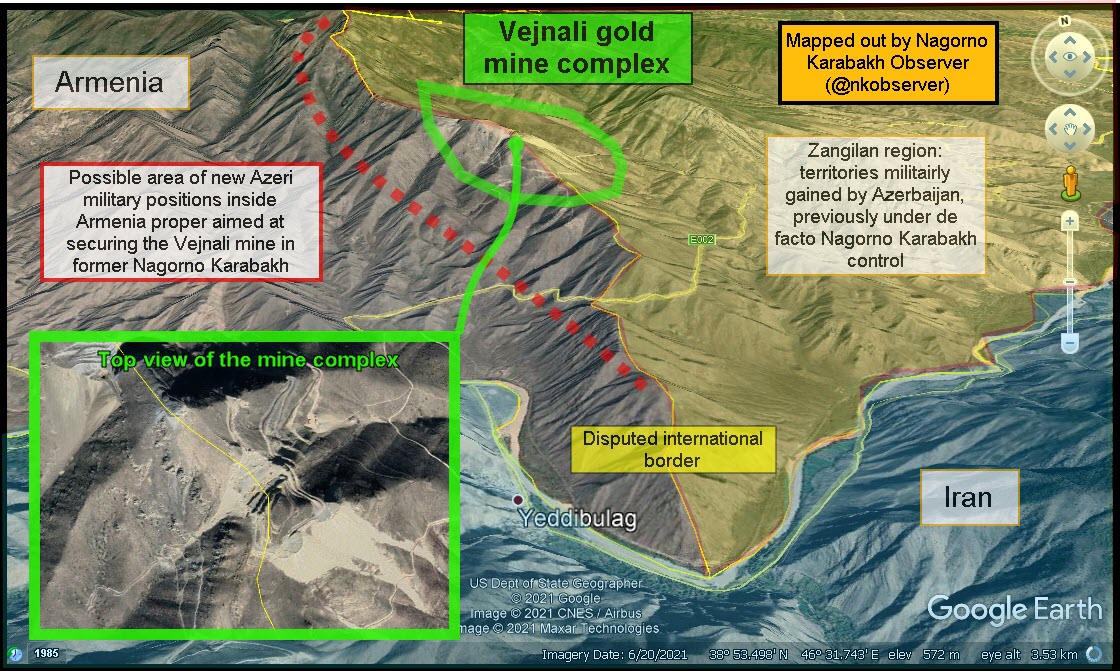 Conclusion
While there may be many factors for heightened tension in these three villages, the fact that all three villages have rich mineral deposits in their immediate vicinity suggests that there is some relation between the tension and mineral deposits. Azerbaijan most likely aims to deprive Armenia of its main source of income for exports, mineral deposits, given the disarray in Armenia's political-military leadership during and after the 2020 war.
The territory near these three villages carries with it strategic interest for both Armenia and Azerbaijan,  similar to the Yeraskh-Sadarak area (metres from Armenia's main highway), Goris-Kapan area (Azeri control over Armenia's main highway here) and Sev lake (major body of water near a big town and nearby villages).